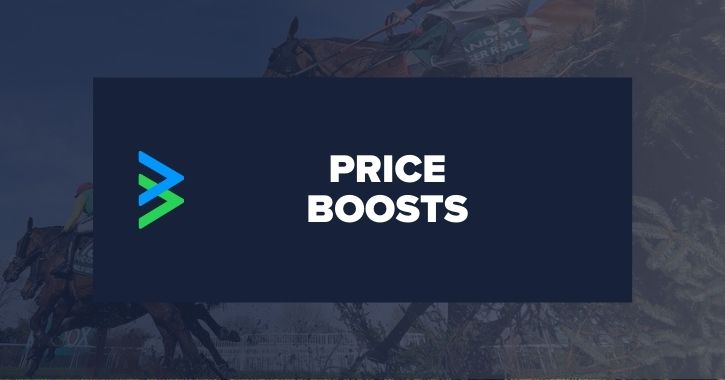 Price boosts should form a significant part of your matched betting activity. The profit from each individual bet may not always be massive, but it really does add up. Here's how you can maximise your earnings from price boosts using BetConnect.
What are price boosts?
Most major UK bookmakers now offer price boosts on a daily basis. Simply put, a price boost is when a bookmaker increases its odds on a particular market. Be it a certain horse to win, a player to score first, or whatever else. They work exactly like an arb from a matched betting point of view. If the boosted bookmaker odds are greater than the lay odds, you can give yourself a chance of making some risk-free profit with straightforward back and lay bets.
How do price boosts work?
With no qualifying losses to worry about, price boosts are an easy way to increase your matched betting earnings month-on-month. For example, the William Hill Bet Boost promotion gives you the opportunity to enhance your odds on three horse racing selections every day. And the good news is that it couldn't be easier for you to take advantage, just follow the steps below.
NB: No qualification loss refers to win bets. Or each-way bets where the place terms match up with BetConnect and the bookmaker.
Head to the BetConnect lay side and deselect all bookmakers apart from William Hill using the bookmaker filter. This means you will only see bets available to lay where William Hill are offering the same or better back odds.


Select Horse Racing on the sport menu and find a bet. Here we can see Pledge Of Honour is available to lay at odds of 6.50 in the 19:50 at Chelmsford. A £20 stake will give you a liability of £110 with BetConnect. 
3. You can then head over to William Hill, where you will see that Pledge Of Honour is available back at the same price. However, if you add the selection to your bet slip and tap the 'Boosts' button, William Hill will enhance the price for you. In this example, they have boosted Pledge Of Honour to odds of 6.95. You can then place your £20 back bet for a potential profit of £119.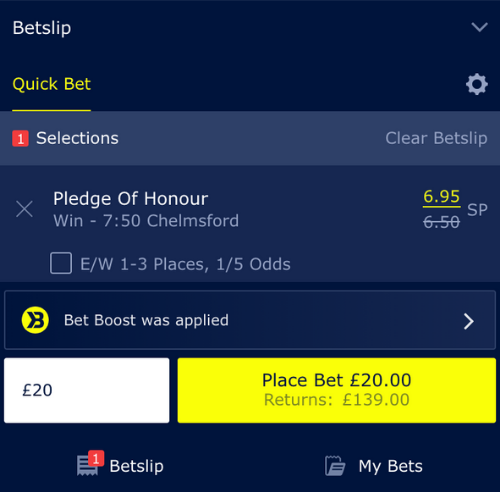 Possible Outcomes
If Pledge Of Honour wins, you will lose £110 on BetConnect but win £119 with William Hill, leaving you £9 in profit!

If Pledge Of Honour doesn't win, you will lose your £20 on William Hill and win £20 on BetConnect – you break even.
Why choose BetConnect for price boosts?
As the odds available on traditional exchanges will often be higher than those offered by the bookmaker, the disparity between the boosted price and the lay odds may not always be enough to make a price boost worth doing or, in some cases, profitable at all. However, BetConnect enables you to lay bets at bookmaker prices, meaning you will benefit from the full boost.
On top of this, you will never pay commission on lay bets with BetConnect. This means no messing around with a matched betting calculator, as you can simply lay the same stake as your back bet.
Join our matched betting community
Our dedicated Matched Betting Discord server is growing rapidly. Join now for expert support, strategy guides, and reload offer alerts, including price boost notifications. It's free to join here.