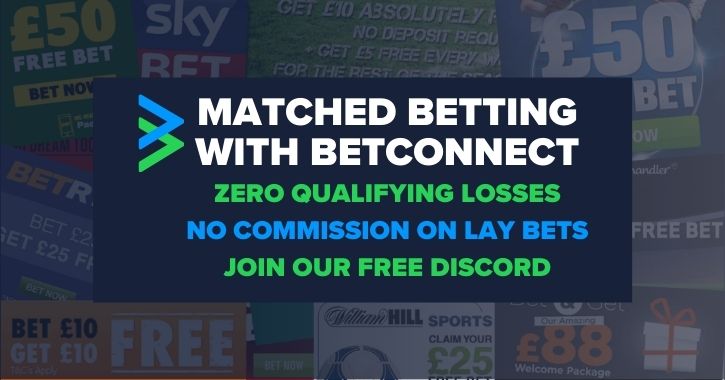 Why it's time to ditch the traditional exchanges and start matched betting with BetConnect.
Matched betting involves covering all outcomes of an event in order to qualify for the free bets and bonuses offered by bookmakers for next to nothing. To do this you need to back a selection with a bookmaker and lay the same selection with a betting exchange. The purpose of the lay bet is to make sure you win back the majority of your stake if it loses with the bookmaker.
So, in many ways, betting exchanges are the driving force behind matched betting. We're here to tell you it's time to ditch the traditional exchanges and make way for Matched Betting 2.0 with BetConnect.
MATCHED BETTING WITH BETCONNECT
At first glance, BetConnect will appear different to the betting exchanges you have used in the past. However, the basic idea remains the same. BetConnect allows you to place the lay bets needed to unlock welcome offers, trigger bonuses, maximise your free bet earnings and ultimately turn a tidy profit. However, there are a few important distinctions to be made, all of which will only serve to significantly increase your matched betting earnings every month.
NO QUALIFYING LOSSES
In order to trigger a free bet or bonus, you will more often than not need to place a qualifying bet before you can claim your reward. A traditional 'bet £10, get £10' offer would require you to stake £10 of your own money with the bookmaker in order to unlock the £10 free bet, for example. 
As a matched bettor you will have placed a lay bet on the same selection with a betting exchange. Whatever happens, your two bets will cancel each other out and a free bet will hit your account. However, the odds offered by traditional exchanges tend to be higher than bookmaker prices. They may also charge a commission on winning bets.
All of this means a qualifying bet will often result in a small loss, known as a qualifying loss, the bane of every matched bettor's existence. But BetConnect has made qualifying losses a thing of the past.
You heard us right. As a matched bettor with BetConnect, you should never incur a qualifying loss again.
NB: No qualification loss refers to win bets or each-way bets where the place terms match up with BetConnect and the bookmaker.
This is for two simple reasons:
1. LAY BETS AT BOOKMAKER ODDS
Firstly, BetConnect is unique in allowing users to lay bets at bookmaker odds. This means there will be no difference between your back and lay odds, which would normally result in a loss. If you are placing an each-way bet, just make sure the each-way terms also match up.
2. NO COMMISSION
If that wasn't enough, you will never pay commission on lay bets with BetConnect – your winnings are all yours!
START MATCHED BETTING WITH BETCONNECT TODAY
And that's it. That's how BetConnect will take your matched betting to the next level. With zero qualifying losses, no commission and some of the best betting odds, it really is a no-brainer. We have an army of matched bettors already turning huge profits month on month, so why not join them over on our Discord?
Here is where you will find everything you need to boost your matched betting earnings. This includes strategy guides, support, bet alerts, reload offers, and much more.