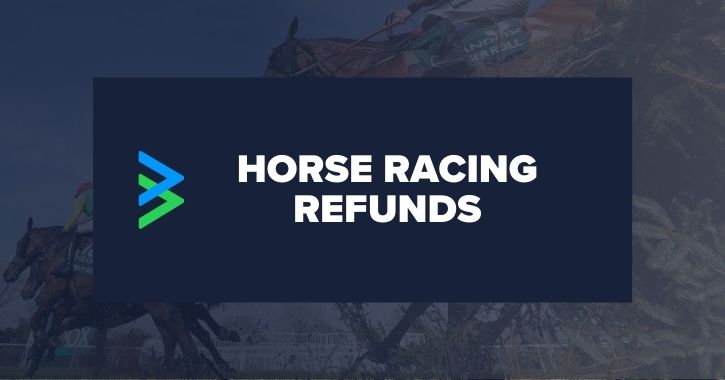 Everything you need to know about horse racing refunds and how BetConnect can help boost your earnings.
Once you've worked your way through the welcome offers, your matched betting journey is far from over. Bookmakers now offer a wide range of retention incentives to existing customers, known in the matched betting community as reload offers. Be it a free bet, a price boost or a money-back offer, there is plenty to keep you busy. Offered by an ever-growing list of bookmakers, horse racing refunds are among the most popular reload offers out there. They provide matched bettors with an opportunity to turn a tidy profit pretty much every day of the year. So read on to find out how they work and why BetConnect will always be the best place to lay bets.
What is a horse racing refund offer?
Horse racing refunds come in various shapes and sizes, but they all amount to the same basic idea: you will be rewarded with a free bet or refund if the horse you back finishes in one of the refund places. Here are some of the horse racing refund offers you are likely to see.
Get your money back as a free bet or refund if your horse…
Finishes 2nd/3rd/4th
Finishes 2nd/3rd to the SP Favourite
Is beaten by a length/neck/head or less
The favourite wins
A named horse wins
Falls/Fails to finish
Why choose BetConnect?
As with all reload offers, the aim is to find as close a match as possible between your back and lay odds. Bookmaker odds tend to be lower than those available on an exchange due to the 'overround'. This would normally result in a qualifying loss and a hit to your matched betting profits. Not with BetConnect, however.
Unlike other exchanges, BetConnect allows you to lay bets at bookmaker prices. As well as reducing your qualifying loss to zero, this makes it far easier and cheaper to cover more horses in a race. This will only boost your chances of grabbing that free bet or refund. No need to spend time hunting around for a close match as your back and lay odds will always be exactly the same.
Traditional exchanges will also often charge commission on winning bets. As a BetConnect customer, you will NEVER pay commission on a lay bet. Your winnings are all yours.
With absolutely no qualifying loss to worry about, BetConnect provides matched bettors with the perfect platform to take advantage of horse racing refund offers. It's a no-brainer. So let's take a look at how it works in practice.
NB: No qualification loss refers to win bets or each-way bets where the place terms match up with BetConnect and the bookmaker.
Example of a horse racing refund offer
Today Coral is offering customers a £10 refund as a free bet if their horse is beaten by a length or less in any race at Leicester.  
Head to the BetConnect lay side and look for any eligible bets
Use the bookmaker tool and select 'Coral' so you only see bets where they are the same price
Kerensa is available to lay at 11.00 in the 13:37 at Leicester
Place a £10 lay bet on Kerensa with BetConnect
Place a £10 back bet on Kerensa to win at the same odds (11.00) with Coral
Possible outcomes:
Kerensa wins
You win £100 with Coral and lose £100 with BetConnect (break-even).
Kerensa is not beaten by a length
You win £10 with BetConnect and lose £10 with Coral (break-even).
Kerensa is beaten by a length
You win £10 with BetConnect and lose £10 with Coral (break-even), but you earn a £10 free bet with Coral!
As you can see, there is no possible outcome where you would lose money as a BetConnect user, but if your horse is beaten by a length, you will earn a £10 free bet.

Remember being able to cover more selections without incurring a qualifying loss will only improve your chances of turning a profit with horse racing refunds.
Join our matched betting community

Hopefully, you are now ready to start taking advantage of horse racing refund offers with BetConnect. But if you have any questions, please do feel free to join us over on our free Matched Betting Discord. Here is where you will find support from matched betting experts as well as bet alerts, strategy guides and much more.