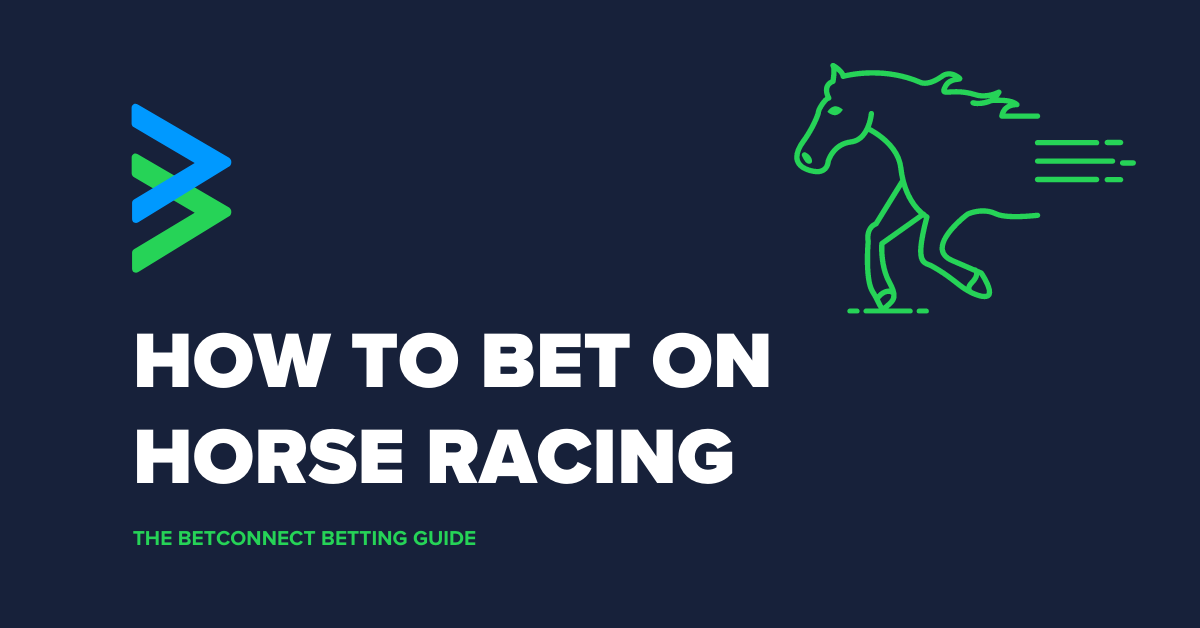 Horse racing is one of the oldest and most popular sports to bet on in the world. Millions enjoy a flutter on the Grand National every year when it is not uncommon for punters to pick a horse based entirely on their name or the jockey's jersey colour. For those looking to delve a little deeper, there is a whole world of racing jargon and terminology to get to grips with. But fear not – this guide will give you everything you need to start betting on horse racing with confidence!
What horse racing is on today?
Horse racing is the second largest spectator sport in the UK, behind only football. In fact, the Grand National and the Cheltenham Gold Cup are among the most-watched events in the entire British sporting calendar.
It's not all about the big races, though. Part of what makes horse racing such an attractive proposition for punters is that meetings take place across the UK and Ireland pretty much every day of the year. You will never be short of horse racing to bet on. The Racing Post is probably the best place to see what racing is scheduled for today and the rest of the week.
Jumps vs Flat Racing
If you are new to horse racing, probably one of the first things you should know is that the sport comes in two distinct forms. These are Flat racing and National Hunt (jumps) racing. Both disciplines are popular in their own right, although horse racing bettors will often favour one over the other depending on their personal preference. Which is best for punters? That's for you to decide, but there's no reason why you can't bet on both Flat and Jumps racing. You will however need to learn the key differences between the two. 
What is National Hunt racing?
As you may have guessed, National Hunt racing, or Jumps racing as it is also known, requires horses to jump over obstacles in the shape of fences or hurdles. Jumps racing now takes place pretty much all year round, but the National Hunt season traditionally comes into its own during the winter months. This is because the ground tends to be softer and therefore safer for jockeys and horses to negotiate. The season proper kicks off towards the end of October, building up to a series of festivals at Cheltenham, in mid-March, Aintree in April, and Punchestown in May.
What is Flat racing?
Flat racing takes centre stage during the summer. Races are run over varying distances up to about two and three-quarter miles and horses have no obstacles to jump over. The Flat season officially starts in May with the 2,000 Guineas meeting at Newmarket and culminates with Champions Day at Ascot in October. However, the introduction of all-weather surfaces has meant that Flat racing is now able to take place all year round. A series of five Flat races, known as the Classics, form the bedrock of the season. Like the Grand Slams in tennis or the Majors in golf, the Classics represent the pinnacle of achievement for any horse, trainer or jockey. They are the 2,000 Guineas, the 1,000 Guineas, the Oaks, the Derby and St. Leger.
You can find more information on the differences between Flat and Jumps racing here.
Horse racing terms explained
As with any other sport, horse racing almost has its own language. Don't let that put you off, though. Below are some of the keywords and phrases you are likely to come across when placing a bet on horse racing. Many you may well already be familiar with, others require a little more explanation. The Racing Post has also put together its own guide to racing jargon.
Ante-Post
An ante-post bet is a bet placed in advance of the day of the race. Placing a bet before the final declaration stage will usually get you better odds but refunds are not always given in the event of a non-runner.
Non-Runner
A non-runner is a horse that was supposed to run but didn't. There are many reasons why a horse might be pulled from a race, including the condition of the ground.
Going
The going refers to the condition of the ground at a racecourse. It is important because different horses prefer different types of ground. In British racing the going varies from Heavy – Soft – Good to Soft – Good – Good to Firm – Firm.
Dead Heat
A dead heat is a tie between two or, rarely, more runners in a race Usually, a photo finish will determine the winner, but at times it is too close to call, resulting in a dead heat.
Furlong
A furlong is an imperial unit of distance measurement, used almost exclusively in horse racing. One furlong equates to an eighth of a mile or roughly 201 metres.
Handicap
A handicap is a type of race in which horses carry different weights based on their ability to give each runner an equal chance of winning.
Length
A horse length, or simply 'length' refers to the length of a horse from its nose to the start of its tail. It is used as a measurement of elapsed time as the horses cross the line.
Starting Price (SP)
The starting price or SP refers to the odds given on a particular horse at the time a race begins.
Odds-on/Odds-against
In horse racing, a horse being 'odds-on' means it is rated as more likely than evens to win. Odds-against means that selection is less likely than evens to win so the amount you stand to win will be greater than the amount staked. Learn more about how bookmakers set odds here.
Form
Form refers to a horse's race record, denoted by figures and letters next to its name on a racecard.
How to read a Racecard
The Racecard is the most important source of information for anyone looking to bet on horse racing. They are where you will find everything you need to know about the races scheduled at a meeting as well as the horses set to run in them. So if you are new to horse racing and want to place informed bets, you will need to learn how to read a racecard. Luckily we've put together this handy guide, which will get you up to speed in no time!
What is an each-way bet in horse racing?
At BetConnect, you have two choices when it comes to backing a horse. You can either place a bet on a horse to win or back it each way. Placing a bet on a horse to win means simply that. Your horse needs to finish first for you to get your money. An each-way bet meanwhile, is a bit more complicated. You are placing a bet made up of two parts: a winning bet and a place bet. This means you can receive a return on your bet if your selection wins, but also if the same selection just places in any of the place positions offered in that particular race. Rory Delargy has written a full article on each way of betting for us. Check it out here. 
How to bet on horse racing with BetConnect
You should now have everything you need to start betting on horse racing with confidence – and there's no better place to get involved than BetConnect! Signing up for a BetConnect account will give you access to the best bookmaker odds for ALL horse racing taking place across the UK and Ireland.
Simply login from 9am every day to view the best odds and place your bets – all through your BetConnect account. No need for multiple bookmaker accounts or odds comparison websites, we do it all for you.
Always getting the best odds will boost your potential winnings for each bet to increase your long term profit. Sound good? Once you've signed up for a BetConnect account, just follow these steps to place your bet.
Select 'Horse Racing' from the list of sports on the left-hand side of the homepage.
Choose the race meet you wish to place a bet on.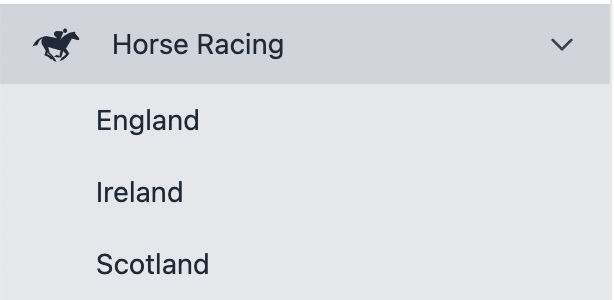 3. Make your selection and watch your bet slip automatically fill on the right-hand side.

4. Choose the best price available from the bookie odds displayed. There's no need to have an account with the bookie, everything goes through your BetConnect account.

5. Enter your stake, view your potential profit and simply click 'Place Bet' once you are ready to place your bet.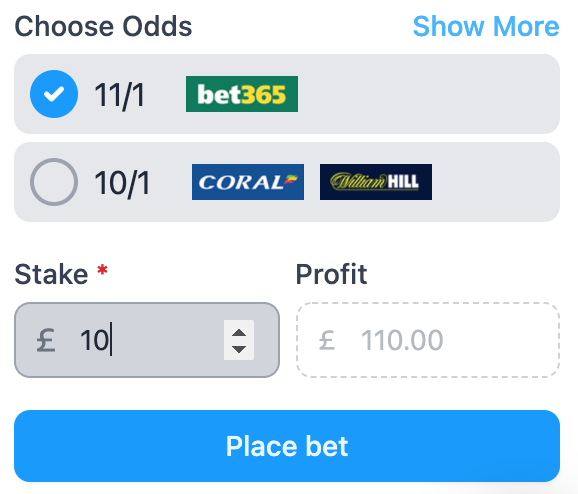 And that's it! Don't forget to check 'My Bets' to view your active and settled bets. Hopefully, you found our horse racing betting guide useful, but if you have any questions, please feel free to contact our friendly support team using the widget on our homepage.