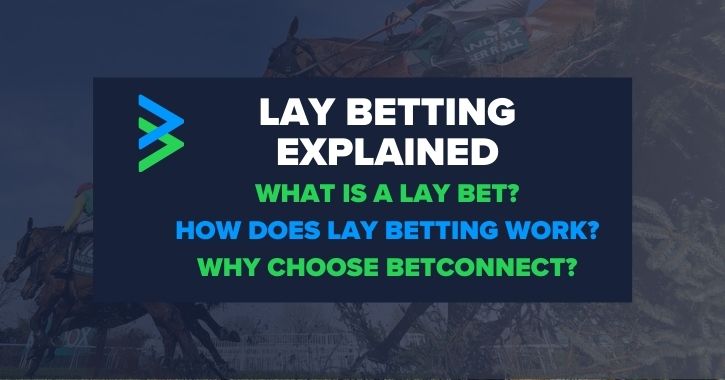 Lay betting is the driving force behind matched betting. It enables you to cover all outcomes of an event so you can lock in a profit regardless of the result. As a matched bettor, you won't get far if you don't know how it works or how it's done. So here's everything you need to know about lay betting and why BetConnect is your best bet.
What is a lay bet?
In its most simple form, placing a lay bet means betting on something not to happen.
What's the difference between lay and back betting?
You are almost certainly already familiar with the concept of placing a back bet. This is your traditional bet in which you are betting on something to happen, be it a horse to win, a player to score the first goal or whatever else. Lay betting is just the opposite of this. For example, to lay, Liverpool is to bet on them not winning. Your bet wins if Liverpool either loses or draws the match. Similarly, if you place a lay bet on a horse, you are essentially betting on any of the other horses in the race-winning.
What is a betting exchange?
In order to place a lay bet, you will need to use a betting exchange. Although betting exchanges can initially appear daunting, there's really not much to them once you understand the basics. Simply put, a betting exchange allows users to bet against each other rather than with the bookmaker. If someone places £20 on a horse at 5/1 (6.00), they need someone else to take the bet on or 'lay' it.
What is liability in lay betting?
The most important thing to understand about lay betting is liability. When placing a back bet, the most you stand to lose is your initial stake. With lay betting, however, you can lose more than you have staked. This is because you are essentially playing the role of the bookmaker and will have 'winnings' to pay out if your bet loses. 
Take the £20 bet on a horse at 5/1 (6.00), for example. If you lay it, you win the £20 stake so long as the horse doesn't win. If it does win, however, the liability will be taken from your exchange account. In this case, the liability is £100 (5 x £20). You need to have sufficient funds in your account to cover the liability before placing a lay bet.
Lay betting with BetConnect
If you're a matched bettor, you really need to look no further than BetConnect when it comes to placing a lay bet. To an extent, BetConnect is just like a traditional exchange in that you can place back and lay bets as you please. However, there are a couple of distinctions to be made, both of which will only serve to boost your matched betting earnings month on month.

When using traditional betting exchanges such as Smarkets and Betfair, you will almost always make a small loss on your qualifying bets, commonly referred to as a 'qualifying loss'. This is due to the difference between the bookmaker back odds and the lay odds on the exchange, which tend to be higher. Many customers will also have to pay a commission on winning bets.
So how's BetConnect different?
1. YOU CAN LAY BETS AT BOOKMAKER PRICES
2. YOU WILL NEVER PAY COMMISSION ON LAY BETS
This reduces your qualifying losses to zero and significantly boosts your matched betting profits in the process!

How to place a lay bet
That's pretty much all you need to know about lay betting – now it's time to give it a go for yourself. The good news is it couldn't be easier to place a lay bet with BetConnect. Simply log in to your BetConnect account and follow the steps below.
Select the 'Lay Side' toggle at the top of the homepage. When you first arrive you'll be presented with bets from all sports for you to select from.
Want to lay a bet on a specific sport? Simply choose a sport on the left-hand side. The green dot tells you if there are new bets to view in each sport. The filters on the right-hand side let you filter bets by the maximum odds and bookmaker odds.
You can scroll through the available bets using the arrow and see bets you have already viewed in the tab if you change your mind.
Once you have made your choice, check the amount of stake available to be matched and choose how much you want to match. Your liability is automatically shown so you know how much you're betting.
Lastly, click "Match This Bet" once you are ready to stake your liability. Fancy putting more on the same selection? Make use of our "Match and More" feature which allows you to stake more on the same selection.