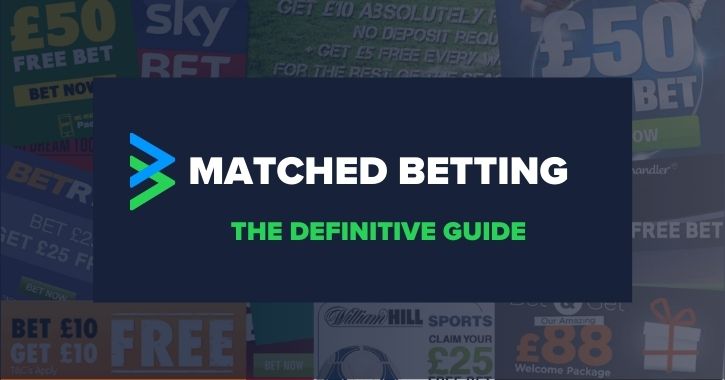 What is Matched Betting?
Matched betting is a method of turning the free bets and bonuses offered by online bookmakers into real money.
Is Matched Betting Legal?
Yes! Matched betting is perfectly legal. It takes advantage of the desire of the bookmakers to reach as many customers as possible. It is not gambling, making it easy to turn a bit of spare time into a profit.
How does Matched Betting work?
Pretty much all bookmakers give money away in the form of sign-up offers, free bets and bonuses. Matched betting involves placing bets to trigger these offers – a 'back' bet (e.g. Liverpool to win) and a 'lay' bet (e.g. Liverpool not to win). If you are unfamiliar with the concept of lay betting, check out our lay betting guide to familiarise yourself with the process.
As you have covered every possible outcome, you are guaranteed a win. This means the value of the free bet will be unlocked regardless of the result. These free bets can then in turn be converted into real money by repeating the process to make a fixed profit.
How to start Matched Betting
If you have a stable internet connection, a bit of discipline and some cash to spare, you are ready to start matched betting. All you need is a suitable sign-up offer from a bookmaker and access to a betting exchange. With the help of a matched betting calculator, you can then start turning promotions into real cash in your bank account.
How much money you start with will depend on your personal circumstances. Ideally, you will have around £300, but you can start with as little as £50. Most of your initial bankroll will be used to match bets on a betting exchange. The more you have to play with, the easier it will be for you to unlock offers and turn a profit. However, this will have no bearing on how much you can earn in the long run.
Is Matched Betting worth it?
As with anything in life, how much you can make depends on how much time and effort you are willing to put into it. Read how one BetConnect user made over £1,500 in two weeks here.
How to make money Matched Betting
To make money matched betting, you simply need to unlock real cash from bookmaker promotions by placing the required back and lay bets. You may back a selection with a bookmaker using a free bet that has been released from their sign-up offer. To ensure a profit, you then need to lay – or bet against – that same selection on a betting exchange at a very similar price. Essentially, you are covering your bet. The 'back' bet is a stake of 'free' money, and this is what allows us to make a profit. Check out our step-by-step guide to learn exactly how you can start turning bookmaker bonuses and free bets into real money.
Reload offers
If you are just starting out, you will have a whole host of sign-up offers to work through. There are a vast number of registered bookmakers in the UK, the majority of which will have some kind of promotion running to attract new customers. Even once you have exhausted those, your matched betting journey is far from over. Bookmakers offer a wide range of retention incentives and bonuses to keep you busy. These are called 'reload offers' and they will significantly boost your profits in the long run. In football betting, for example, the '2Up' concession offered by some firms pays out before the final whistle when a team goes two goals ahead in a match. Meanwhile, Extra Place and Best Odds Guaranteed promotions are widely available for horse racing betting. As such, there are plenty of ways to continue matched betting without free bets.
Is Matched Betting No Risk?
Matched betting does guarantee a theoretical risk-free profit as you are betting on all outcomes of an event, removing the element of chance. However bear in mind that there is always the possibility of individual human error, like in any other process. We've put together this list of matched betting tips and tricks to help steer you in the right direction.
Matched Betting Explained
Hopefully, you found our matched betting guide useful and are now ready to get started. If so, BetConnect is here to help you get involved. As a BetConnect user, you will be able to lay bets at bookmaker prices without paying a penny in commission, unlike other betting exchanges. This will minimise your qualifying losses on the bookmaker promotions and boost your overall profit. Sound good? Sign up for your free BetConnect account today to start taking advantage, or alternatively, you can find more information here.