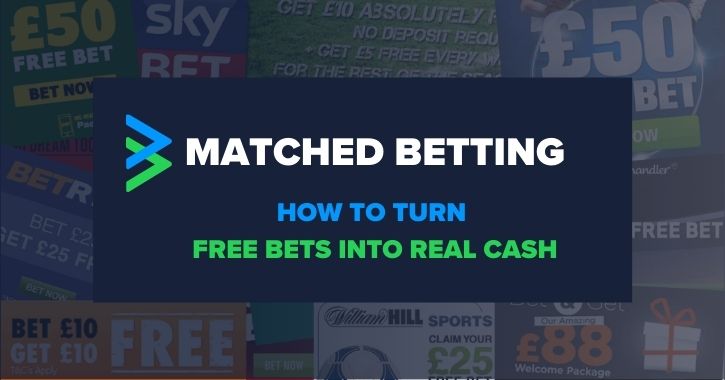 Simply put, matched betting involves taking advantage of bookmaker promotions to guarantee yourself a risk-free profit. This is done by placing two bets – a traditional back bet and a lay bet on a betting exchange – to trigger free bets, before using them to tie up a return. At first the process can seem a little daunting, but there's really not that much to it. Simply follow the steps in our matched betting guide below to get started.
Matched Betting Guide
First, you need to open an account with a bookmaker and go through the steps to release the free bets from their sign-up offer. As always, do ensure you've read the terms and conditions before opening an account. Each operator may have slightly different terms regarding how much you need to bet and the minimum odds required in order to qualify for your free bets.
As an example, let's look at a "Bet £5 Get £20" Ladbrokes offer. If we deposit £5, we will receive four free bets to the value of £5 each for a total of £20. We have to bet on a selection priced at least 1/2 (1.5) and use these free bets within four days.
For our first £5 bet, our qualifying bet with our own money, we won't make a profit. But by backing a team, horse or other outcome and betting against it – or laying – at a very similar price, we can make a small but acceptable loss in order to release our free bets.
Find a market with similar 'back' and 'lay' odds
Check out the popular markets for popular sports. Sheffield United to beat Southampton at home in the Premier League has similar 'back' and 'lay' odds.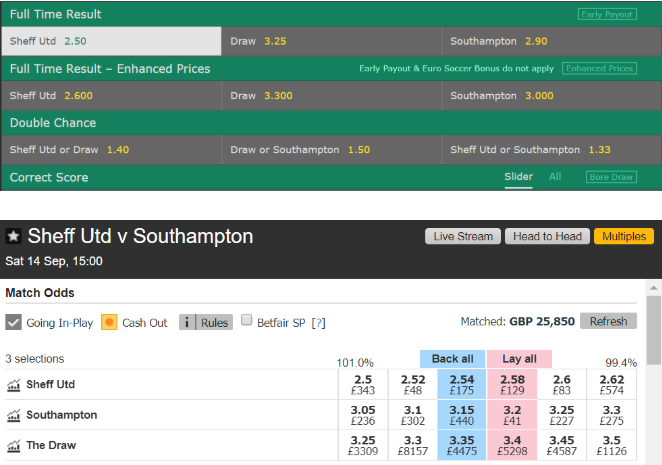 For ease of comparison, it's a good idea to convert the odds displayed on your online bookmaker or sportsbook to decimal odds. This should be fairly straightforward, but hit the online chat facility if you're struggling.
Place your qualifying bet
So, let's back Sheffield United with our qualifying £5 bet in order to release our free bets.

How much should we lay Sheffield United for on the betting exchange? Use an online matched betting online calculator to find out.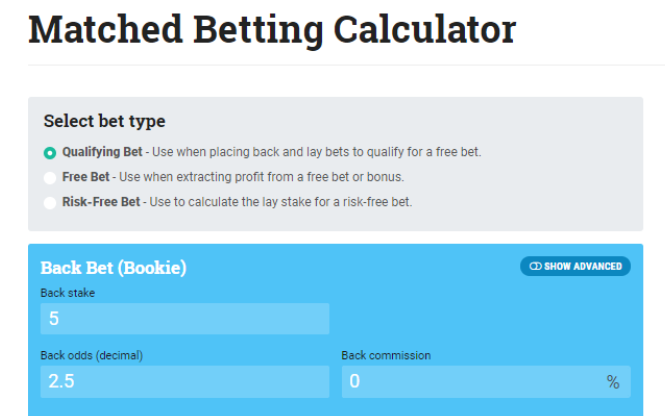 We need to lay Sheffield United for £4.94 with a 5% commission rate according to the calculator. Make sure you check the commission rate of your betting exchange first. We will lose either 30p or 31p – money we will later recoup and more courtesy of our free bets.
With the match result settled, the free bets are debited and you can now make some profit.
How I make a profit from Matched Betting?
Basically, you repeat the process once again on a different market. This time using your free stake in order to generate a risk-free profit. Rather than trying to limit the inevitable small loss on our qualifying bet, we are now trying to turn over more profit with our free bets, so use higher odds.

The draw in 'match result' football betting markets are a good place to look for bigger odds. Take this Premier League match between Tottenham Hotspur v Crystal Palace, for example.
Our £5 free bet returns a profit of £20, but what do we need to lay for a profit?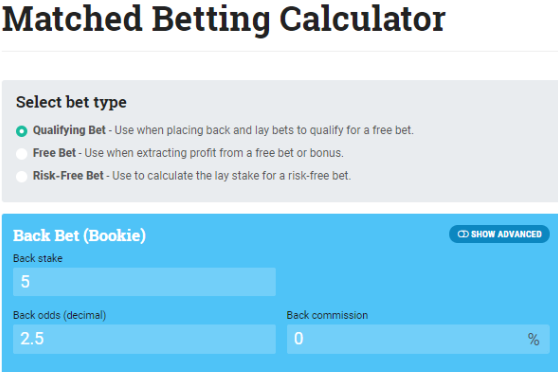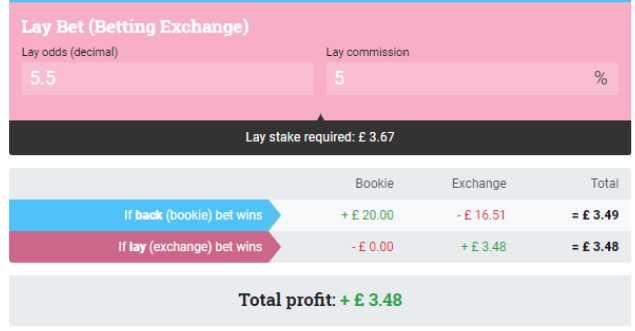 As the matched betting calculator suggests, we lay the draw for £3.67 to generate a guaranteed minimum profit of £3.48.
And that's how you make money from matched betting! Hopefully you found our matched betting guide useful but if you need more information, you should be able to find the answers to your questions here.