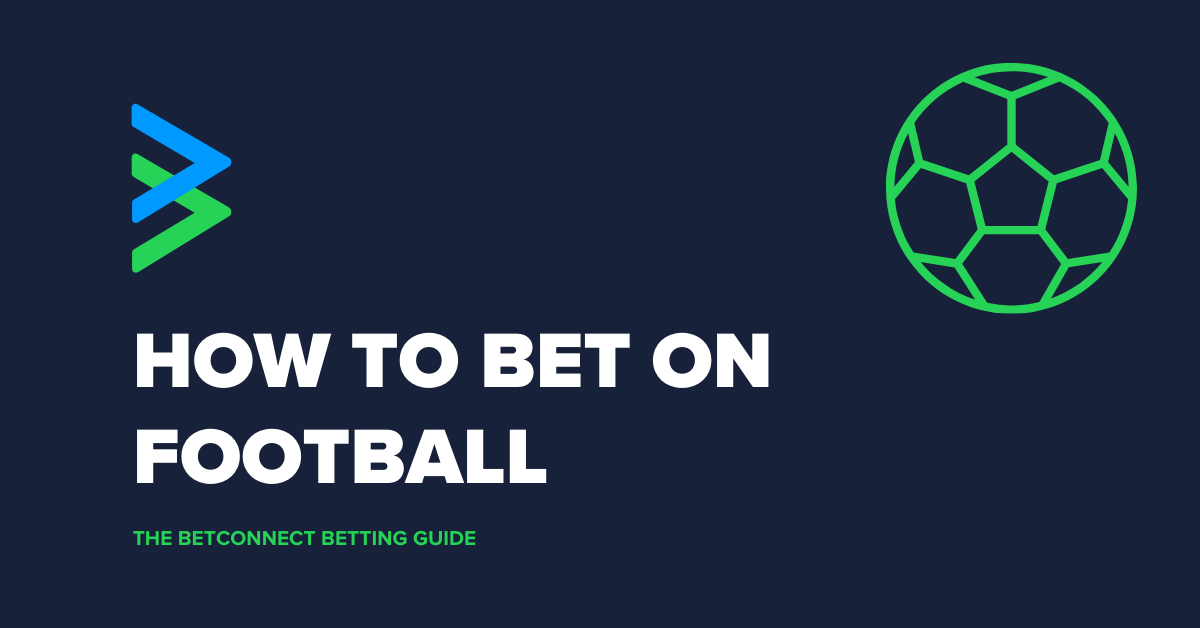 Fancy a bet on the football but not sure how to get involved? Here's everything you need to get started.
Probably the most popular form of sports betting, not only in the UK but worldwide, football betting has evolved considerably over the years. The options available to punters are now almost endless. At any given moment, you can pretty much guarantee there will be a football match being played somewhere in the world to watch and bet on.
The good news is, BetConnect has got your betting needs completely covered. Be it the Premier League, the Champions League or anything else, here is where you will find the best football odds around. No need for multiple bookmaker accounts or odds comparison websites, we do it all for you. Simply log in to your BetConnect account to view the best odds and get your football bets on.
Football Betting Markets Explained
In terms of football betting markets, it's almost a case of what can't you bet on. Gone are the days when it was simply a question of betting on a team to win or lose. At BetConnect, we offer a wide range of markets, covering just about every eventuality. Some you will already be familiar with while others require a little more explanation. So read on for a quick guide to the football betting markets available to you.
Match Result
Placing a match result in a bet simply means betting on one of three potential outcomes – a home win, an away win or a draw. These bets are settled on the result after 90 minutes, sometimes referred to as full-time or normal time. This includes injury time but not extra time or penalties. Something to bear in mind if you are placing a bet on an FA Cup replay, for example.
Half-Time Result
As above but your bet is settled at half-time. You are betting on either team to be leading at half-time, regardless of the full-time result, or maybe you think they will still be level at the break.
Half-Time/Full-Time
Here you are placing a bet on what you think the outcome will be at half-time and full-time. For example, in a match between Liverpool and Manchester United, you might back Draw/Liverpool. This means you are betting on a draw at half-time and Liverpool to be winning at full-time.
Asian Handicap
Asian Handicap betting is a bit more complicated. Simply put, it involves "handicapping" teams according to their form, meaning the stronger team must win by more goals for a punter betting on them to win. Once understood, Asian Handicap Betting can offer great value. That's why we've put together a full article on it for you here.
Over/Under (Goals)
With an over/under goals bet you are betting on whether you think the total number of goals scored in a match will be higher (over) or lower (under) than the goal total specified in your bet. At BetConnect, you can bet on there to be over or under 1.5, 2.5, 3.5, or 4.5 goals in a match, but obviously, it is impossible to score half a goal. So if you place a bet on over 2.5 goals, for example, you are hoping for three or more goals to be scored in a match, and two or less if you back the under.
Expected goals or xG has worked its way into mainstream football coverage and analysis. But what exactly does it mean and how can it be used to inform betting decisions?
Both Teams To Score
As you might expect, with this bet you are backing both teams to find the back of the net on at least one occasion before the final whistle. A team might be losing 6-0 in the 89th minute but if they score a late consolation goal to make it 6-1, your bet wins.
Draw No Bet
A Draw No Bet wager removes the option of a draw, allowing you to back either a home or away win. If the match ends as a draw, your stake is returned.
Home/Away Team Clean Sheet
Here you are backing a team to not concede. They might win 5-0 or draw 0-0, if they don't let in a goal, your bet is a winner.
First Goalscorer
First Goalscorer betting is one of the most popular markets around for football punters to bet on. You are placing a bet on a specific player to score the very first goal of a match. If anyone scores before your player, from either team, then your bet loses. Why not take a look at our first goalscorer betting tips?
Anytime Goalscorer
The same as above but you are betting on a specific player to score at any point of a match. It doesn't matter when the player scores, only that the player you bet on scored it.
You can find the rules around all of our football betting markets here.
How to bet on football
It couldn't be easier to bet on football at the best bookmaker odds with BetConnect. Just follow the steps below and don't forget to check 'My Bets' to view your active and settled bets.
Firstly select 'Football' from the list of sports on the left-hand side of the homepage
Next, select the league or competition you wish to bet on
Then make your selection and watch your bet slip automatically fill on the right-hand side
Now choose the best price available from the bookie odds displayed
Finally, enter your stake, view your potential profit and simply click 'Place Bet' to place your bet
And that's about it! As you can see, you are almost spoilt for choice in terms of football to bet on and available markets. Hopefully, you found this guide useful, but if you have any questions, please feel free to contact our friendly support team using the widget on our homepage.