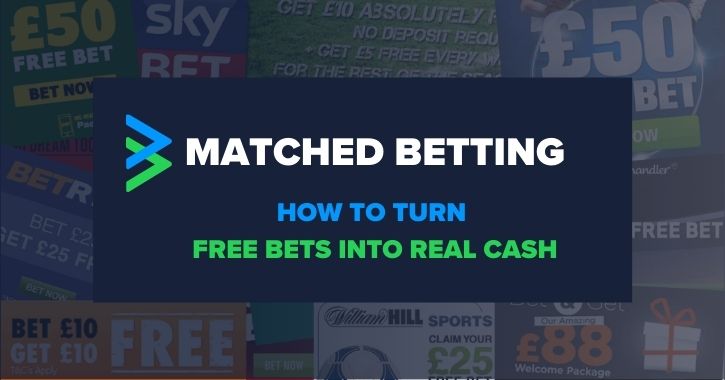 You may have seen the term when researching your bets, but what is matched betting, and how does it work? This guide will give you everything you need to start making risk-free profit today. Let's get into it!
What is Matched Betting?
Simply put, matched betting involves taking advantage of bookmakers' promotions to guarantee yourself some risk-free profit. This is done by placing two bets, a traditional 'back' bet and a 'lay' bet on a betting exchange, triggering free bets and using these to tie up a return.
If you're new to matched betting, the process can seem pretty daunting, but there's not much to it. Simply follow the steps in this matched betting guide, and you can get started.
Getting Started with Matched Betting
To get started, you will want to sign up with a few bookmakers. Make sure they have sign-up offers and carefully read all terms and conditions of these offers as bookmakers may have different requirements to qualify for bonuses. We need to release these free bets, so first place a bet at the minimum odds to qualify for the free bet(s).
For example, let's look at Ladbrokes' welcome offer; "Bet £5 Get £20". If you deposit and stake £5, you'll receive four free bets of £5 (£20 total). The bets have to be placed at odds of at least 1/2 (1.5) and must be used within four days.
Our first £5 bet (qualifying bet) will be paid for with our own money. We won't make a profit here, but by betting on (backing) a team, horse, or any other outcome and also betting against it (laying) at a similar price, we can break even (with BetConnect) or take an acceptable small loss (other exchanges) to unlock our free bets.
Find a Market with Similar 'Back' and 'Lay' Odds
Before we place any bets, we need to check the markets of popular sports like football. Let's take this selection for example; Sheffield United to beat Southampton at home in the Premier League, as this selection offers fairly similar 'back' and 'lay' odds.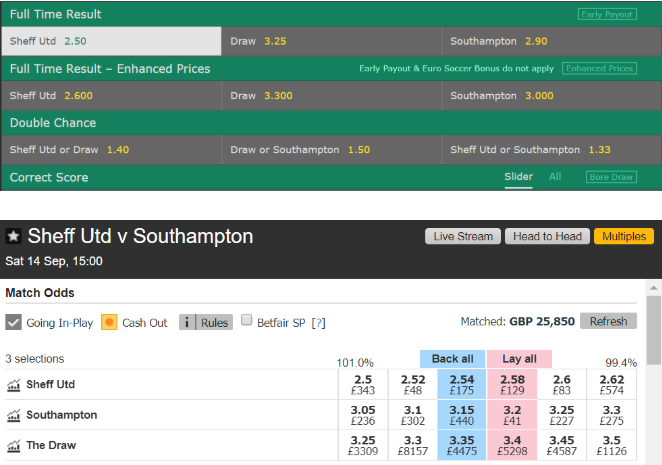 To make comparing odds easier, you should change how odds are displayed with your bookmaker to decimal rather than fractional. This should be straightforward but if you're having trouble, use the live chat service.
Place Your Qualifying Bet
So back to placing this qualifying bet; back Sheffield United at £5 to release these free bets.

You may be thinking, how much should we lay against Sheffield United on the betting exchange? This is where the use of a matched betting calculator comes in handy; use it to find out how much you need to lay; we'll explain matched betting calculators in more detail later.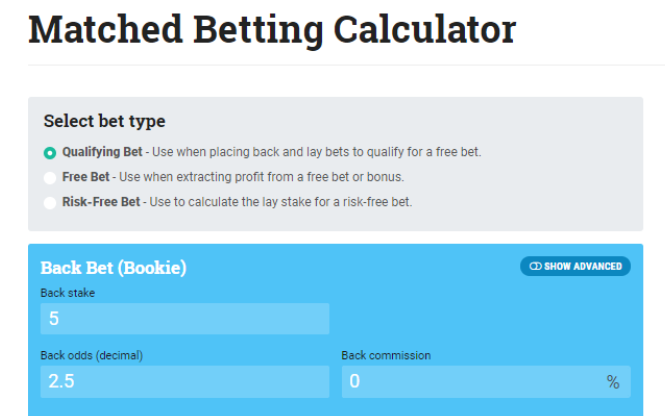 According to the calculator above, we need to lay against Sheffield United for £4.94 with a 5% commission rate. Make sure to double-check the commission rates of your chosen betting exchange as these can vary. In these first 'back' and 'lay' bets, we will lose either 30p or 31p – this will later be recouped with profit courtesy of our 4 x £5 free bets.
When this match completes and both bets settle, the free bets will be debited to your account, and you can now start making a profit.
How You Make Profit from Matched Betting
Now you've qualified for your free bets, you can start to build up your balance; how do we do this? Basically, you repeat the process once again on a different market. This time using your free bets to generate a risk-free profit. Rather than trying to limit the inevitable small loss on our qualifying bet, we are now trying to turn over more profit with our free bets, so we'll be using higher odds.

The draw selection in 'Match Result' football betting is a great place to find some bigger odds. Take this Premier League match between Tottenham Hotspur and Crystal Palace, for example.
Our £5 free bet returns a profit of £20, but what do we need to lay for the profit? We head back to the matched betting calculator.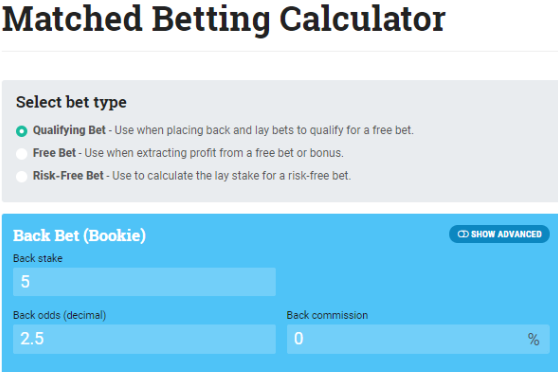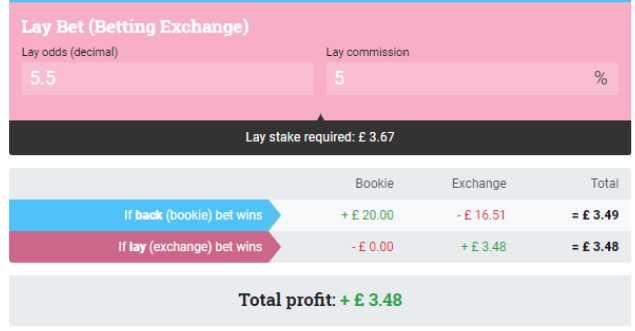 As you can see above, the matched betting calculator does all the hard work for us; we lay the draw at £3.67 to generate a profit of £3.48.
That's it; that's how matched betting works in its simplest form. Hopefully, you found this matched betting guide useful, but if you're looking for more information on the process or some tips and tricks, head to our matched betting blog, where we're adding great matched betting content every week!
Continue reading for a rundown of matched betting software and some frequently asked questions on matched betting.
Matched Betting Software
When you're matched betting, there are sites and pieces of software you'll be using to aid you along the way; below is a rundown of the basics.
Bookmakers
This is where you'll be placing all of your 'back' bets. When you decide to start matched betting, you will need to sign up with plenty of bookmakers to make use of their welcome offers. Each site will navigate differently, but the aim is always the same – place a qualifying bet to unlock free bets.
Exchanges
This is where you'll be placing your 'lay' bets, essentially betting against your 'back' bets. Exchanges can be confusing at first with liability and commission, but they're simple when you get the hang of it. Head to our blog section to learn more about how liability works in matched betting.
Matched Betting Calculator
Matched betting calculators are life savers when working out how much to lay. Without this software, the matched betting process would take much longer. It's good to find a matched betting calculator you can trust; there are plenty out there.
How BetConnect Optimises the Matched Betting Process
When it comes to matched betting, there are a lot of factors that can affect your journey. Changing odds can be detrimental to your matched betting; that's why BetConnect offer the best possible odds in one place. Gone are the days of searching every bookmaker's site for the most potential profit; this can save matched betting enthusiasts hours of their valuable time.
Matched Betting FAQs
When you first start your matched betting journey, there can be many questions. Below are some of our most frequently asked questions.
Can the account I have with bookmakers be restricted?
This is a tricky one, but in short, bookmakers monitor betting habits closely. So yes, your account may be restricted if you place many bets over a short time. A common phrase for this is 'Gubbing' or being 'Gubbed' (the act of your account being restricted somehow.) 
There are ways around this; by placing 'mug bets', you can keep algorithms at bay, keeping your account open and ready to continue matched betting.
Is matched betting time-sensitive?
Yes and no, matched betting can be done on any event; the time sensitivity comes when looking for the best odds to make the most profit. (That's why BetConnect is such a game-changer, you can get the best available odds at any time, all in one place!)
What happens when I've used up every bookmaker's welcome offer?
It's no major issue if you run out of welcome offers to claim; there are other forms of bets you can use, like reload offers, price boosts and other advanced techniques. Plus, new bookmakers are always popping up, so make sure to use any welcome offers they may have!
Is matched betting legal?
The short answer is YES! Matched betting is completely legal in the UK and many other territories. There are no tax implications in the UK with profits made through matched betting. 
Is matched betting gambling?
Contrary to popular belief, matched betting is not considered gambling since there is no risk. With matched betting, you know approximately how much profit you will make before a selection completes.
Summary
So there it is, the definitive guide to matched betting; you should now have all the information you need to start your matched betting journey. We hope you've enjoyed this guide which should lead you to plenty of matched betting profit!
BetConnect. Your Best Bet. Always.