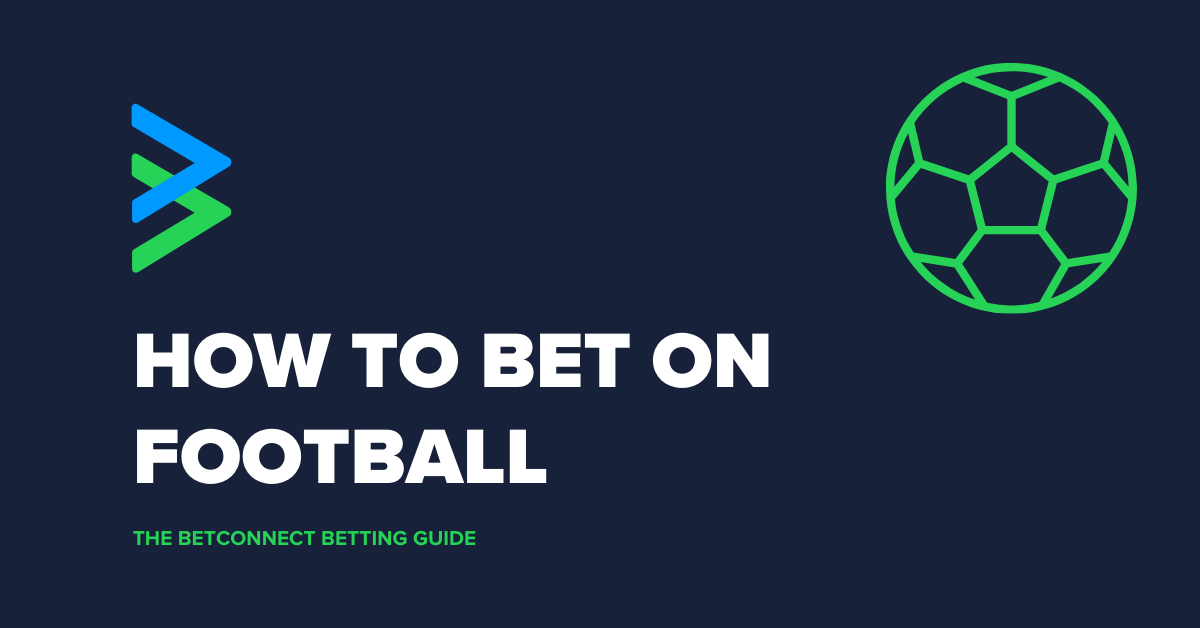 Football is one of the most loved sports on the planet, making it one of the most wagered upon. Throughout this guide to football betting, we will be taking a deep dive into the sport, giving you all the information you need to start placing your football bets.
This post aims to explain how football betting works, what types of bets there are, and highlight strategies that could help your football betting endeavours.
Football Betting Explained
By far, the most popular form of football betting is staking on a match-winner, but as bookmakers have evolved, so have the betting markets available on football. Punters can now pick multiple selections and place them all in one bet. Odds in football betting can vary drastically, so let's take a look at how football betting works.
Staking in Football Betting
In football betting, staking is placing money on a specific bet on the outcome of an event. The odds on a particular outcome play a big part in picking the right bet for you. The best odds give the biggest potential payout, which is where BetConnect comes in. By using BetConnect, you can guarantee yourself the best odds possible, helping you get the most out of your money.
Football Betting Odds
The science behind deciding the odds for a football match for example, is a complex process that uses data and expert knowledge. All bookmakers set the odds slightly in their favour so they can always take more than they pay out, but the best bookmakers will try and offer the most attractive odds to their customers, trying to beat the competition.
Odds, in their simplest form, represent the likelihood of an outcome. More experienced gamblers will look for outliers where the odds are not representative of an outcome. Imagine Liverpool to beat Brighton being 1/1; these odds are attractive because the likelihood of this outcome is high; instances like this are where the skilled punter has the edge, in theory.
Betting Markets in Football
In the world of football betting, a wide range of bets can be placed. In the modern gambling age, there are more markets than ever before. Check out some of the most popular football bets with descriptions below.
| | |
| --- | --- |
| Betting Market | Market Description |
| Outrights | Outrights are a type of wager that involves picking a team to win a league or tournament. Odds for this type of bet can be decent if you pick them out early. |
| Match Winner | This is one of, if not the, most popular bets in football. You are simply backing a team to win a specific match in 90 minutes; odds can vary due to team form, injuries, etc. |
| Over/Under Goals | Over/Under Goals bets predict how many goals will (or won't) be scored in a specific match. The most popular forms of this bet are Over 1.5, Over 2.5 and Over 3.5. |
| Correct Score | This type of bet can be tricky to land with players having to predict the exact score of a match. However, these bets can feature attractive odds making them more common. |
| Both Teams to Score | Both Teams to Score, or BTTS as it's otherwise known, is betting that both teams will score in 90 minutes. |
| Goalscorers | Goalscorer bets have become more common over recent years with the introduction of bet builders. The two most popular selections are Anytime Goalscorer and First Goalscorer, with the latter usually offering better odds. |
| Handicap | This type of bet involves handicapping a team that is a heavy favourite, making the game more interesting when there's a mismatch. For example, Liverpool – Fulham, you could back Liverpool -2.5, meaning Liverpool would have to win the match by three clear goals for the bet to land. (e.g. 3-0, 4-1). One of the most popular types of handicap is the Asian handicap. |
| Double Chance | Double Chance is similar to picking a Match Winner but with the addition of the draw, essentially letting you back a team to win or draw. Odds for this type of bet can be low but usually have a better chance of landing. |
| Draw No Bet | Another variation of the Match Winner bet, this wager allows you to back a team to win a match, but if the match ends in a draw, your stake is returned to you. This can be a good way to back a riskier winner with the chance of your original stake being returned. |
| Corners, Throw Ins, Goal Kicks, Free Kicks | These markets have exploded in popularity in recent years, mostly down to the introduction of bet builders. These bets can offer great value, adding that bit extra to the football betting experience. |
Forms of Football Betting
When it comes to football betting, there are tons of sites where you can place your bets, and it can become tedious jumping from site to site looking for the best odds. With BetConnect you can cut all of that out and find the very best odds all in one place. Let's explore the different types of bets that are common in the world of football.
Accumulators
The accumulator, or acca, is one of the more popular and most placed bets in football. This bet involves backing multiple selections in one bet, allowing for some huge odds.
Accumulators are usually placed by casual punters hoping to get lucky and land a huge bet. An example of an accumulator would be backing five football teams to win on the same bet slip.
Fixed Odds
This covers almost all bets you place on football with a bookmaker. Fixed odds are when odds are locked in at the moment you place the bet.
Handicaps
As mentioned above, betting with handicaps can be a great way to spice up a potentially one-sided match. Handicap betting makes the most sense when there is a heavy favourite going into a football match. An example would be Manchester City playing Nottingham Forest; the odds for a Man City win would be low due to this being a likely outcome.
Placing a handicap bet on City at -2.5 will vastly improve the odds, levelling the playing field to some degree.
In-Play Betting
In-play betting has seen a huge increase in popularity in the past ten years with the rise of mobile and online betting. This bet involves betting on an outcome or event in a particular football match after the match has started.
This form of betting lets players see how a team or player is performing before placing their bets, giving the player a slightly better chance of winning. In-play betting is heavily used by players using exchanges.
Lay Betting
This type of wager can be placed on an exchange site (like BetConnect) and involves backing an outcome not to happen. In instances where the outcome does not occur, you will be paid out, whereas if the outcome does occur, you will be liable for payouts.
Here's an example of how lay betting works: if you lay against a Liverpool win at odds of 1.5, you will have a liability of £5. Therefore, you're risking £5 to win £10 using lay bets. You can read more about how liability works by heading over to our blog section.
Football Betting Statistics
Statistics are a huge part of football betting, with punters using stats to inform their bets and future wagers. In football, statistics are tracked on everything from tackles to shots on target. Using statistics to inform your bets can be a great way to increase the potential of your bets landing.
For example, punters who regularly bet on player cards use stats to see which players have the most cards in a given league or tournament. Below are some of our top tips when using statistics to help you pick your bets.
Using Trustworthy Statistics
If you're looking for some statistics to use, you want to make sure they're from a reputable source. Regarding stats, you should only use a few of the best sites. Great sites for stats include WhoScored and FootyStats; these sites are easily accessible and offer a good user experience.
On these sites, you should be able to find any stat you may need, everything from free kicks, to corners, to fouls. You'll be able to track any player's or team's form helping inform your bets. In terms of statistics, as long as you're getting them from a reputable source, you should be golden.
Prematch Stats
When it comes to football betting, most bets are placed within an hour of kickoff; this is due to teamsheets being released in this timeframe. The top leagues in Europe are some of the most-watched leagues in the world; this means there are plenty of stats for players to use. Here are some of the most popular stats players use to inform their bets before kickoff:
Team Form – This factor can play a huge part in the odds of a football match. If a team is on a good winning streak, their odds may be lower as the bookmaker may see this team having a good chance of winning. Team form can be affected by confidence, playing schedules, injuries, etc.
Player Form – Looking at player form is important when placing bets on football. If a team's star player is bagging goals left, right and centre, this could be a great indicator that a particular team could win. Once again, player form can be affected by confidence, injury, bad management, and so on.
Defence – These statistics are some of the most important in football, essentially letting you know how well a team is defending. If the stats point towards a weak defence, this may influence your selection. On the other hand, teams with solid defending stats are less likely to concede goals and could prove valuable in your bets.
Attack – Attacking stats are just as important, if not even more so, than defence stats. A team with a good attacking record is more likely to score, making that team a more likely winner. By studying attack stats, there is some potential value to add to your bets.
Football Betting Tips
When placing any bet, it's good to know what you're doing. In this section, we'll look at some league-specific tips, giving you all the information you need to start staking on the beautiful game. Below is a breakdown of some of the most popular leagues and tournaments in football.
UEFA Champions League
The UEFA Champions League is one of, if not the most, prestigious tournament in the world. It's a tournament that sees the best teams in Europe battling it out for this honour. The winners of this trophy are usually from the top 5 leagues in Europe, but this is not always the case (an example would be Porto in the 2003-04 season). The team with the most Champions League/European Cup titles is Real Madrid, with an astounding 14 wins.
UEFA Europa League
The UEFA Europa League is another European competition that includes teams who missed out on UEFA Champions League spots, with qualifiers also included. This tournament also features eight teams who finish third in their group in the Champions League. These teams enter in the last 32 stage of the event. The winner of this event seals their place in the group stage of the following season's UEFA Champions League tournament. The team with the most titles is Sevilla with six.
UEFA Europa Conference League
The UEFA Conference League is a newly sanctioned tournament, now the third tier of European football. Teams that finish seventh in the top five leagues qualify as well as some teams who may not see European football often. The first champions were Jose Mourinho's Roma in the inaugural 2021-22 campaign. The winner of the Europa Conference League gains promotion to the following Europa League group stage.
Premier League
The English Premier League is one of the best leagues in the world. It is regarded by many as the highest level of football. The money in this league is the highest in the world; this allows clubs to attract the best players. There are between 3-6 teams with a chance of taking the title each season. This makes it one of the more competitive leagues in Europe. It's fairly common for teams in the bottom half of the table to get the odd win and draw against the top 6.
La Liga
The Spanish La Liga is another of the big leagues in Europe. La Liga's home to two of the most iconic teams in football; Barcelona and Real Madrid. These two teams have dominated the league over the past decades with the odd outside winner (most recently, Atletico Madrid). This is one of the strongest leagues in Europe and, in the past, has attracted some of the biggest names in football like Lionel Messi and Cristiano Ronaldo.
Serie A
The Italian Serie A is another competitive league in Europe. This league plays host to Juventus, Inter and Milan. Although Juventus have dominated the league in recent decades, the last two seasons have seen both Milano teams winning the Scudetto. This is a league that has seen some of the most famed footballers like Ronaldo, Buffon, and Cristiano Ronaldo compete.
Bundesliga
The German Bundesliga is the top flight of German football and is home to one of the most successful European teams ever; Bayern Munich. This league hasn't been too competitive in recent years, as Bayern have won the title every year for the past decade.
This league has seen many breakout stars, including Erling Haaland, Jadon Sancho and Ousmane Dembele. Many of these top players have ended up at huge clubs, most recently Erling Haaland to Manchester City.
Ligue 1
The French Ligue 1 is the top level of football in France and hosts one of the world's richest clubs: PSG. This league attracts some big players like Neymar, Mbappe and Lionel Messi. Due to PSG's financial strength, the league hasn't been too competitive in recent years, although Lille managed to win the title in the 2020-21 campaign in a thrilling season.
There has only been one UEFA Champions League winner from Ligue 1; being Marseille. PSG have come close on occasion but couldn't get the job done.
Team Betting Tips
If you're looking to start placing bets on markets like Over/Under and Both Teams to Score (BTTS), it's hugely important to research the teams competing in any given match. An example would be Jurgen Klopp's Liverpool; this team scores plenty of goals, so if they're playing a lower league team, you may expect Overs to land.
A team with a good attacking philosophy can do wonders for punters in these specific markets. However, if a team doesn't have the best attacking record and instead plays with 11 players behind the ball, these bets may become harder to win.
Player Betting Tips
There are plenty of betting options when it comes to individual players, goals, cards, assists, and the list goes on. Whether you should use these markets comes down to the individual player. This is where stats will be your best friend.
If a player has a lot of goals or cards in a season, the stats suggest that that player is more likely to score or receive a card. On the other hand, if a player doesn't have many goals or cards, you may want to leave them out of your bet.
Popular Systems in Football Betting
We want to make this clear, there is no one size fits all formula for football betting. The strategies below take time, lots of practice, and a fair amount of discipline. There are some great betting strategies, but the more conservative the strategy, the smaller the returns tend to be.
Some of these betting systems have been proven successful among players, especially Matched Betting. Below is a rundown of some of the most popular football betting strategies.
Expected goals or xG has worked its way into mainstream football coverage and analysis. But what exactly does it mean and how can it be used to inform betting decisions?
Arbitrage Betting
Arbitrage, or 'Sure Betting', involves betting for and against a sporting event outcome on a bookmaking site and an exchange, carefully picking odds that guarantee a profit. This is done by having many accounts with different bookmakers and an exchange.
This is where BetConnect is a game-changer, as the algorithm will search the web for the best odds and offer them to you all in one place, making the need for tons of accounts no longer necessary.
Dutching
Dutching involves wagering on two opposing bets with different bookmakers, guaranteeing profit. This form of betting is especially useful in sporting events with only two outcomes. To find good Dutching opportunities, you may need to purchase adequate software.
Full Cover Betting
Full cover bets are perfect for the punter who loves to place large accumulators on football, as they work similarly. The difference in these bets comes from the amount of 'bets'. This bet covers singles, doubles, trebles, etc to cover all bases.
In the case of a regular accumulator, if one selection loses, your bet will fail, whereas, with full cover bets, you're still in to win some money. If this sounds like your type, the Goliath and Lucky 63 bets are certainly the ones for you.
Matched Betting
No-risk matched betting is one of the most popular betting strategies in the UK and is only getting more popular yearly. Using this betting strategy, it is possible to use sign-up bonuses from bookmakers to make guaranteed, risk-free profit.
There are many advanced strategies; why not check out BetConnect's matched betting tips? This betting strategy exploits bookmakers' welcome offers to turn them into cash.
Here is exactly how it's done; you place a wager with a bookmaker to activate the welcome offer (free bet), then lay against that bet using an exchange, making the bet break even. Once the bet and lay have been placed, you do the same thing with your winnings from the free bet (which should now be cash), meaning any outcome you will be in profit. It's common to do this with any bookmaker with a welcome offer.
Football Betting Strategy
Here are some other football betting strategies that can be used; these are best placed on exchanges as you won't risk your account being restricted. These are more generic tips and strategies that even the casual punter can use.
Risk & Reward
Finding a strategy that suits you is vital in football betting; that's why weighing up risk and reward is key. Never breach any limitations you have set for yourself. If a selection presents great value, don't bet with your entire bankroll. If the risk outweighs the reward, don't bet on it.
Information Betting
Information betting is popular in horse racing (also known as tips) and is becoming more popular in the football betting sphere. Sourcing insider knowledge on players, teams and even referees can be a great way to make some profit. An example would be if a team's key player has an underlying injury that the club don't want to disclose, but you have a reliable source confirming this; there may be some value in betting on the opposition.
Betting Tools
If you're looking to get into some of the more profitable betting strategies, it's wise to invest in some of the tools of the trade. Setting some funds aside for these tools, such as statistics websites and other subscriptions is important.
We wouldn't recommend spending any of your funds on these right away as it's better to pin down which strategy you want to use going forward, but the more you bet on football, the more you'll realise how useful these tools can be.
Managing Your Bankroll
This is a biggie, bankroll management can make or break your betting strategy. You could have the best strategy in the world, but if your bankroll management is no good, you won't see results. If you are committed to only spending X amount of your bankroll per day, you need to consider the odds carefully so you can make a profit.
The philosophy behind bankroll management is to protect punters from spending all their funds and having nothing to spend on their bets.
Derby Game Fallacy
Everyone enjoys a bet on the big game, but derby games are outliers when it comes to football betting. Sometimes odds can seem great in these games, but one thing to remember is that players will often raise their level for these matches, making outcomes somewhat unpredictable. This is why some seasoned punters give derby games a miss.
Frequently Asked Questions on Football Betting
Here are a few of the most frequently asked questions regarding football betting.
Can I make a profit betting on football?
The short answer is yes, some proven betting strategies can lead to profit. There is no magic wand in any form of betting, so it's important to gamble responsibly.
How do I read odds when football betting?
When it comes to football, odds are displayed as either fractional or decimal. In the UK, fractional odds are more common. When it comes to Arbitrage and Matched Betting, decimal odds are always preferred as there is less confusion when placing bets quickly.
Is it possible to bet on both teams to win?
Yes, it's possible to bet on both teams to win the match in separate bets. Remember that doing this doesn't guarantee a winning bet; if the match ends in a draw, you will lose both stakes.
Is there a strategy to win football bets every time?
Unfortunately, no, wouldn't it be great! There is no way to guarantee a winning bet on a football match. If you're looking to make some profit, your best options would be Arbitrage or Matched Betting.
What does Over 1.5, 2.5, 3.5 mean in football betting?
You may have seen it across other markets, for example, Over 1.5 cards. If you were to back this bet, two cards would have to be in the match for this selection to land. If you backed Over 2.5 – there would need to be three, Over 3.5 – there would need to be four, and so on.
Summary
This has been our in-depth guide to football betting; you should now have everything you need to place your first football bets. Make sure to check out our other betting guides over on our blog for more information on betting on other sports, as well as betting advice. Betting on football can be fun and should never become a problem. Always play with what you can afford, and please always gamble responsibly.
BetConnect. Your best bet. Always.