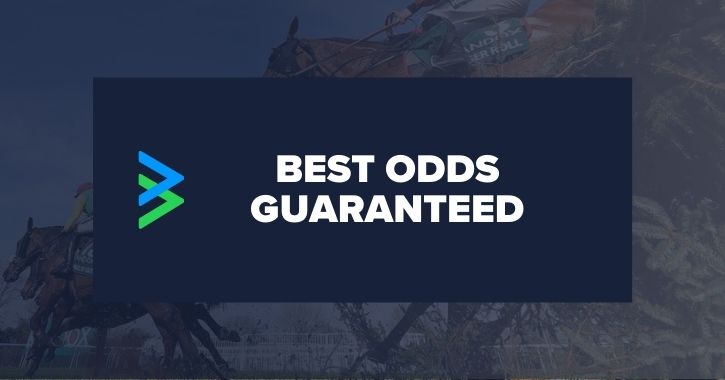 Best Odds Guaranteed is one of the most powerful promotions in matched betting. Here's how BetConnect can help you get some BOG.
Best Odds Guaranteed explained
Best odds guaranteed, or 'BOG' for short, is a promotion offered by many leading bookings on horse racing. Simply put, it means a bookmaker will pay you out at the bigger odds if the starting price – the price a horse goes off at when the race gets underway – is greater than the odds you initially took. 
Say you back a horse on the morning of a race at odds of 9.0. For whatever reason, that horse drifts in the betting and goes off at a starting price of 11.0. Perhaps there's been some rain and punters aren't sure it's suited to the heavy ground. However, it could still go on to win. And if it does, a bookmaker offering the best odds guaranteed will pay you out at the bigger odds of 11.0 rather than the 9.0 you placed the bet at.

But what does this mean for matched bettors?
Best Odds Guaranteed in Matched Betting
The best odds guaranteed is a matched bettor's dream. Basically anytime you are matched betting on horse racing, you could make yourself some unexpected cash. You could be completing a signup offer or taking advantage of one of the many horse racing reload offers out there. What matters is if your horse wins at a starting price higher than the odds you backed it at, you will be paid out at those odds. And the good news is that it's completely risk-free – if you're using BetConnect that is. 
That's because, with BetConnect, you should never incur a qualifying loss.
As a BetConnect user, you can lay bets at bookmaker prices, meaning the odds will be a perfect match every single time. On top of this, you'll never have to pay commission on lay bets. This is the perfect scenario when it comes to the best odds guaranteed promotions. Without any qualifying losses to worry about, you can cover multiple horses every single day, which will significantly increase your chances of getting some BOG.
NB: No qualification loss refers to win bets or each-way bets where the place terms match up with BetConnect and the bookmaker.

BOG hunting with BetConnect
Here's how you can use BetConnect to profit from best odds guaranteed promotions.
Resumption is available to lay in the 13:00 at Bath today at odds of 9.0.

First, you place a £10 lay bet on the horse with BetConnect. 

Then you place a £10 back bet on Resumption at the same odds as bet365, who are offering Best Odds Guaranteed on that race. 
Regardless of whether Resumption wins or not, you will break even due to your matching back and lay odds. However, if the horse goes on to win at a starting price bigger than 9.0, you'll trigger the best odds guaranteed and make a profit.
Say Resumption drifts and goes off at odds of 11.0.
If it LOSES, you win £10 with BetConnect and lose £10 with bet365. You break even.
If it WINS, you lose £80 with BetConnect and win £100 with bet365. £20 profit.
Join our matched betting community
And there you have it. That's how BetConnect can help you make some risk free profit through best odds guaranteed promotions.
For more information, why not join our FREE matched betting Discord? Here's where you'll find expert support, reload offers, bet alerts and much more! Join here.