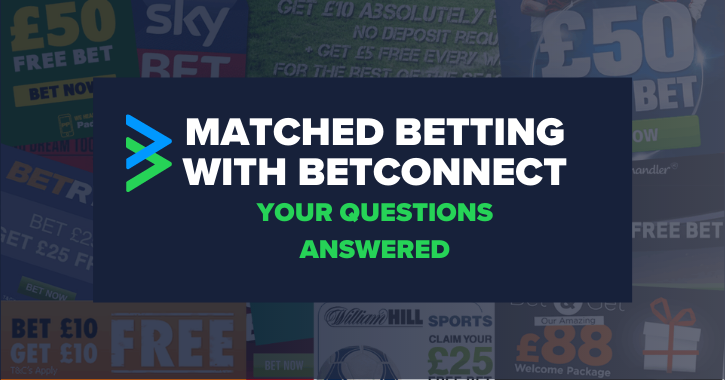 BetConnect has changed matched betting forever. Laying bets at bookmaker prices with 0% commission will minimise your qualifying losses and boost your profits. We've answered some of your most frequently asked questions below to help you start making the most of the platform.
Is BetConnect a betting exchange?
BetConnect is a betting exchange where you can place back and lay bets, just like you do on Betfair or Smarkets. However, BetConnect is unique in enabling you to lay bets at bookmaker odds, making it the perfect platform for matched bettors. 
How much commission do you charge?
As a BetConnect customer, you will never pay commission on lay bets. Any profit is all yours!
How do I switch to the lay side?
When you login to BetConnect, you will automatically be presented with the back side of the platform. To start laying bets, you need to switch to the lay side using the toggle button at the top of the homepage.
How do I change to decimal odds?
As a matched bettor, you'll almost certainly want to see odds displayed as decimals. To do this, just click 'My Account' in the header of the homepage. From there you then need to go to 'Personal Information' and under 'Preferences' you can switch to decimal odds. Click 'Save' when you are done so your changes are saved for the next time you login.
How do I lay an each-way bet?
Normally to lay an each-way bet, you will need to place two separate bets. One on the win part and another on the place part. However, BetConnect has simplified this process by enabling you to lay an each-way bet as one bet. The win and place parts are combined. 
If the odds are a perfect match with the bookmaker, you can also lay exactly the same stake as your back bet. When laying an each-way bet, always remember to check the place terms. If BetConnect doesn't match up with the bookmaker, you may incur a qualifying loss. 
How are each-way stakes calculated?
It is important to note that when laying an each-way bet, your stake will be doubled. For example, laying £5 each way means your stake will be £10 in total.
Matched Betting with BetConnect: Filters
Maximum Odds
The maximum odds filter allows you to set a limit on the odds of the lay bets you see. For example, if you want a bet with lay odds no higher than 11.0, you need to move the dial down to 11.0. 'No Maximum' means you will be presented with all available bets for your chosen sport.
Each Way
You can use the each way filter to either include or exclude each-way bets from the lay bets you are presented with.
Bookmaker Filter
Our bookmaker filter enables you to see bets where a particular bookmaker is offering the same or better back odds as those available to lay on BetConnect. Simply click 'All Bookmakers' on the left-hand column of the lay side and select the bookmakers you want to see.

Where can I find extra support?
Hopefully, that's cleared a few things up about matched betting with BetConnect. If you have any more questions about the platform or matched betting in general, just head over to our Discord. Here's where you will find expert matched betting support, strategy guides, bet alerts and much more. It's free to join!