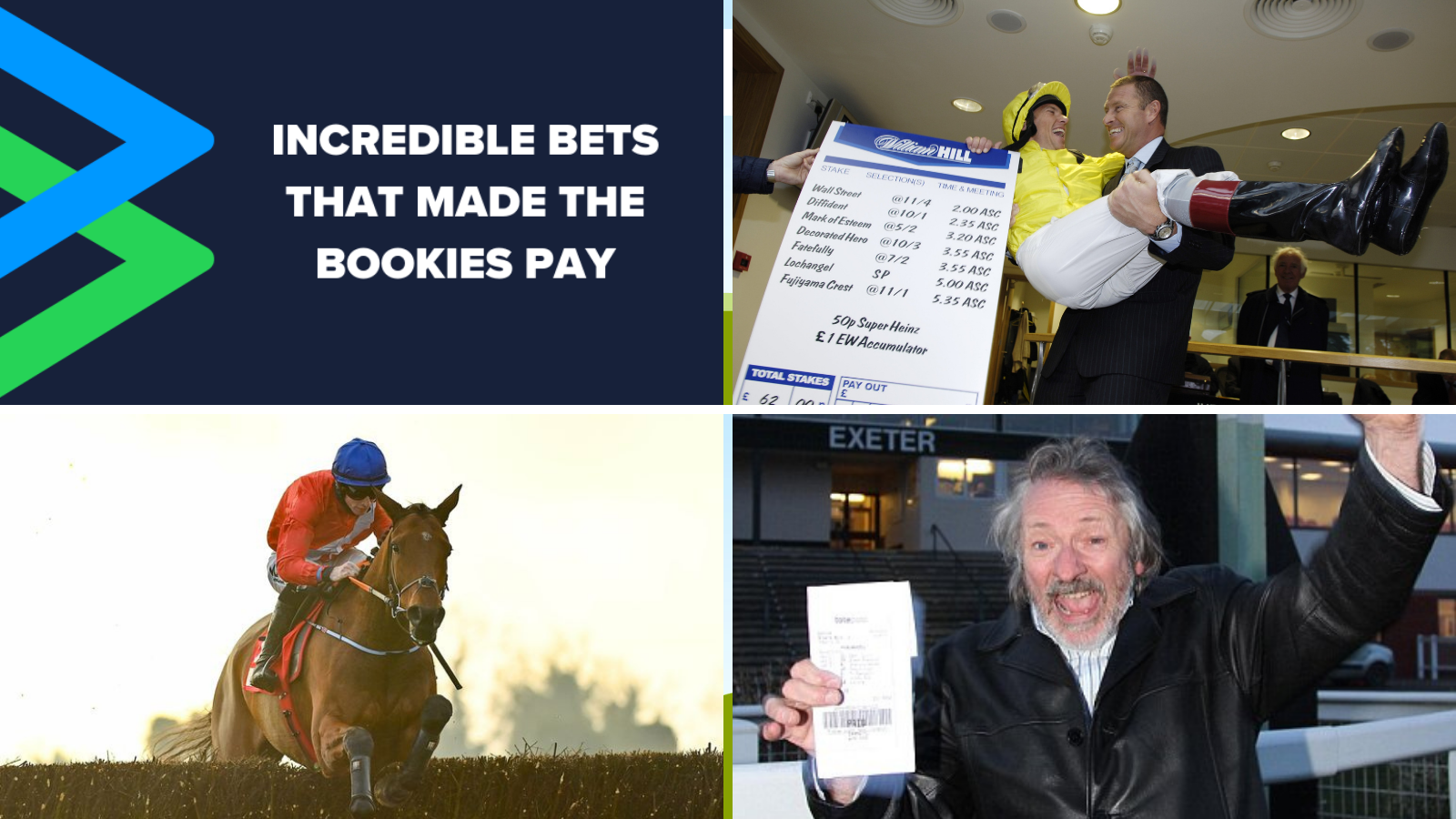 At BetConnect, we love a winner just as much as you do. So read on as we run you through some of the biggest sports betting wins of all time!
Biggest Sports Betting Wins
Liverpool Longshot
This first football bet was a massive longshot – literally! Liverpool fan Adrian Hayward placed a £200 bet on midfielder Xabi Alonso to score from his own half at odds of 125/1. And it took less than a year for his bet to come good as the Spaniard succeeded with a speculative long-range effort in Liverpool's FA Cup clash with Luton in 2006.
Hayward, who netted a cool £25,000 from the bet, said: "I've been a Liverpool supporter for 26 years and I noticed last season that Alonso attempted shooting from his own half quite a few times. I couldn't get it out of my head that he would eventually score like it.
"Since placing the bet, I've always had a vision in my mind that it would come when the opposing keeper came out for a corner in a cup game. I couldn't believe it when Luton got a corner and the keeper started to run upfield. I thought I was going to pass out. When it went in, I went crazy."
Magnificent Seven
Saturday 28th September 1996. A day that lives long in the memory of horse racing fans as Frankie Dettori became the first and only jockey to ride all seven winners on the card at Ascot. Nobody could have predicted Frankie's incredible feat, apart from Darren Yates that is. Amazingly, he'd wagered his last £67.58 on the jockey to clean up at Ascot that day, earning him a massive payout of £550,825. 
"I'd been playing football for my local team in Morecambe and only caught the racing results over a post-game pint," said Yates. "I asked how it was going and they said Dettori had four out of four. I reckoned I'd won £700. Then Frankie's fifth and sixth horses went in and I thought I was heading for the £24,000 mark.
"So I went down to the betting shop to watch the seventh race and just quietly sat there. I couldn't believe it when Frankie stormed home. I asked the counter girl how much I'd won, thinking it would be about £50,000. When she told me it was over £500,000 I almost fainted."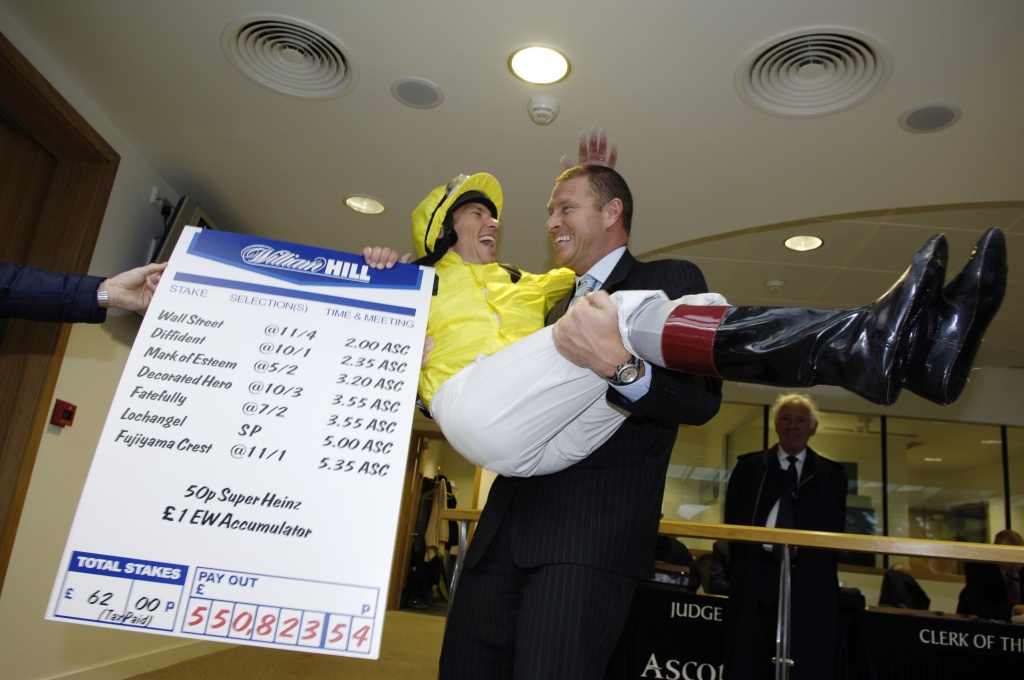 Roger That
Impressed by Roger Federer's performance at Wimbledon in 2003, Nicholas Newlife decided to place a £1,520 bet on the Swiss maestro to win the Grand Slam seven times by 2019, at odds of 66-1. Of course, Federer went on to dominate at the All England Club for over a decade and landed an incredible seventh single title there in 2012. Newlife sadly passed away three years before the bet came in, but as were his wishes, the £101,840 in winnings was donated to Oxfam.
Taking The Mick
In 1999, Mick Gibbs correctly predicted the results of nine football games across Europe to win £157,000 from a £2.50 bet. Pretty impressive in its own right, but the story doesn't end there. Far from it. Just two years later, the roofer staked 30p on a 15-leg accumulator, priced at mammoth odds of 1,666,666/1. Incredibly, that bet also came in and netted Gibbs a tasty £500,000. Bayern Munich beat Valencia on penalties to land the gamble, thought to be one of the biggest football bets ever won. "I still couldn't turn the match on and just carried on pacing and praying," Gibbs told a newspaper.
5000/1 Foxes
Leicester City went into the 2015/16 Premier League campaign in questionable form, having almost been relegated the previous season. However Foxes fan Leigh Herbert kept the faith and, after a few drinks on holiday, put a fiver on his team to win the league at odds of 5000/1. We all know what happened next. Claudio Ranieri's men went on to shock the footballing world and win the league by an astonishing 10 points. Herbert cashed out £2 of his bet with just a few weeks of the season left to go as it "all got a bit much", netting him £5,600. And the carpenter bagged a further £15,000 when Leicester clinched the title, taking his total winnings to £20,600.
50p Millionaire
A list of the best sports betting wins wouldn't be complete without mentioning Fred Craggs. He became Britain's first betting shop millionaire in 2008 in one of the most incredible horse racing gambles you'll ever see. The Yorkshireman staked just 50p on an eight-horse acca at odds of 2,800,000/1 with William Hill. All eight of his picks went on to win at various tracks up and down the country, including the aptly-named A Dream Come True. The bet should have returned £1.4 million, but Craggs' winnings were capped at a meager £1 million by the bookie. Still, not bad for a 50p stake.
A Day At The Races
Steve Whiteley and six of his mates were given free tickets for a Tuesday meeting at Exeter in 2011. And it's fair to say he made the most of his day at the races. One of Whiteley's friends had suggested he have a crack at the Tote Jackpot, which required him to pick the first six winners on the day. Amazingly, the heating engineer managed to do exactly that. The final horse of his £2 bet, Lupita, ridden by Jessica Lodge, won at odds of 12-1. "I like racing, yeah, but I don't know anything about it, do I? I come with my mates," revealed Whiteley, who earned a massive £1.45 million from his Exeter extravaganza.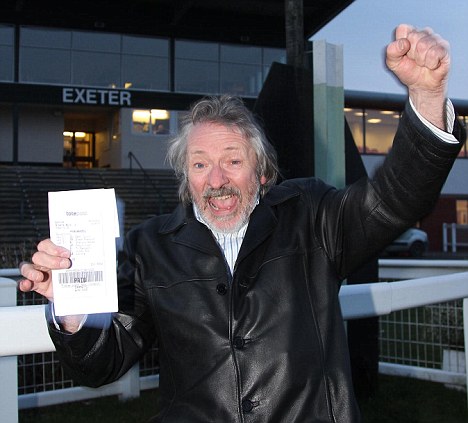 Best cash-out ever?
An ambitious five-fold ante-post bet saw punter Paul Dean make the best decision of his life last year. The first two legs of his bet came in without too much fuss. Golden Horde won the Commonwealth Cup and Hello Youmzain landed the Diamond Jubilee Stakes at Ascot a day later. It was then over to the Cheltenham Festival with three legs left to run.
Shishkin and Bob Olinger did the business, leaving just Envoi Allen, a hot favourite for the Marsh Novices' Chase, to complete the bet. Quaking in their boots, Betfair initially offered Dean a cash-out sum of £275,000. But following discussions with the bookmaker, he accepted a partial cash-out of £300,000 if Envoi Allen won and £250,000 for the field. And it proved to be the correct decision as Envoi Allen fell at the fourth fence.  
"I was anxious when I saw Envoi Allen was in behind other horses at the start," said Dean. "I know he likes to see his fences when jumping. When he fell I wasn't worried about the money, I was worried about the horse and Jack Kennedy. But they were both OK and that's all that matters to me.
"The partial cash out with Betfair was a great deal and, even though I would have got another £50,000 if he had won, I'm delighted with the £250,000 and that Jack and Envoi are fine."
Winners Wanted
Hopefully, you enjoyed our list of sports betting wins! It's no secret that bookmakers routinely restrict winning customers or even shutdown their accounts entirely. So if you're struggling to get your horse racing bets on, then look no further than BetConnect. We welcome winners and always will do. Join for free today.