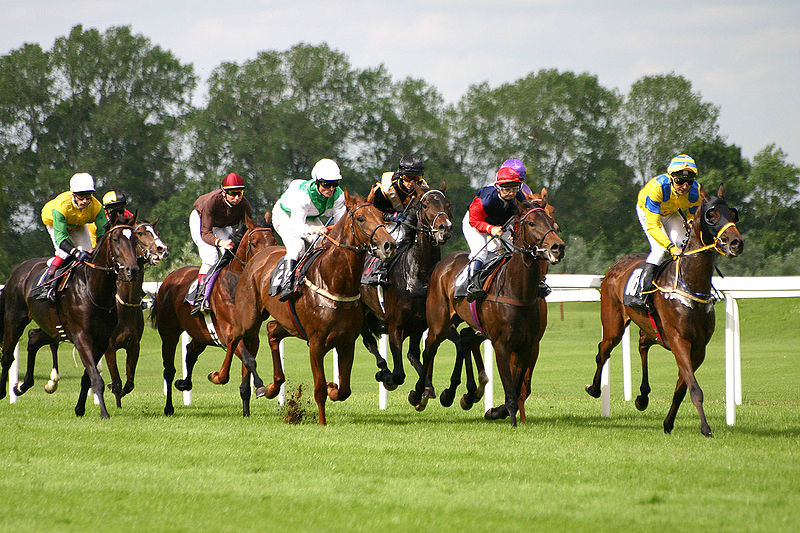 With so much racing action to choose from, should you only be betting on one racing code or the other? Here's everything you need to know about the differences between flat and jump racing.
Flat and jump racing: What's the difference?
There are two important aspects that differentiate flat racing from the jumps. One is the most obvious of all. In a flat race, the horses don't have to leave the ground. In a jumps race, obstacles need to be cleared up to 30 times (in the case of the Grand National) and a minimum of eight times in a race run over the minimum trip.
The second difference is in the way the races start. Flat races all start with the horses coming out of numbered gates that automatically open at the same time. With jumps racing, the starter's flag is raised when the horses are assembled into a vaguely organised moving group.
Generally speaking, jumps horses are older, bigger and exhibit more stamina than their flat counterparts. Flat horses can be directed at synthetic surfaces and/or turf. Jumps horses are raced exclusively on grass.
Should you bet on jump or flat racing?
The assumption is often made that if you are backing a horse in a jumps race it is a riskier business. This is due to the possibility of an unforeseen fall ruining your bet.
It is true up to an extent. There are many examples of a horse being turned over at odds-on following an unexpected jumping error, or even a series of errors that force it out of its rhythm.
However flat horses can be unlucky in a number of ways too. They are more likely than jumps horses to suffer from interference in running. They can simply get stuck in a bad position in the field and then struggle for an "out". Flat horses are arguably more prone to losing races due to jockey error too. A good example is this Ryan Moore ride at Glorious Goodwood in 2019 on Jubiloso.
How important is breeding in flat and jump racing?
All racecards, flat and jumps, reveal the identity of every horse's sire (father) and dam (mother). This information is of particular interest in flat racing when assessing young horses with minimal (if any) race form.
A lot of punters will run entire angles on the progeny of certain sires at certain venues. Others will watch a juvenile race and look for signs of encouragement among the beaten horses, particularly if their breeding suggests improvement is likely to be forthcoming.
In terms of the jumps, breeding is barely looked at beyond curiosity value. This is largely because jumps horses have usually had their potential exposed. This may have been in a previous flat career or on the point-to-point or hunter chase circuit (essentially amateur versions of jumps racing).
Flat racing vs jumps: Do you need to specialise?
Absolutely not. A lot of punters, and the majority of tipsters actually worth following, will bet across both codes through the whole year.

With that said, it may be unwise to stake heavily during the early stages of the flat turf season. From late March through to the end of May, many horses will be having their first run of the season.
Exactly the same protocol exists when the jumps season gets going in earnest during the autumn. It is best to see a run or two first before lumping large.
Typically, a "seasonal" punter would probably concentrate his bets in this way:
Spring: Focus on jumps
Summer: Focus on flat
Autumn: Focus on flat
Winter: Focus on jumps + all-weather flat
An important footnote here. Do not feel obliged to concentrate on the bigger races even if operating on seasonal guidance. Many BetConnect punters enjoy hunting value in less valuable races which are not so easy for the odds-compilers to assess.
Flat Racing Betting Tips
To be successful as a punter on the flat, it is essential to respect the importance of bias. A course with sharp bends such as Chester or Chelmsford invariably suits horses with good early pace. It's even better if they are drawn in a low-numbered stall. This will allow them to run close to the rail.
Pace bias is an assessment based on predictive models. It tends to apply in big-field sprint handicaps without bends such as the Wokingham and the Epsom Dash. Here, punters will aim to consider where the early pace is likely to come from and whether a hold-up horse is likely to be able to benefit by dint of being drawn close to the likely pace-setters.
Track bias applies to certain courses in certain conditions. It may become apparent during the course of a particular afternoon's racing that horses racing on one side of the course are benefiting by running on faster turf.
If this happens, you may need to re-assess a potential selection that is drawn on the wrong side of the track or establish whether the jockey is smart enough to manoeuvre his horse into the so-called "golden highway".
Jump racing Betting Tips
Very often the first tipster selections for the Cheltenham Festival (held in March) appear in early April.
A lot of dedicated jumps fans waste a considerable amount of energy trying to unlock a race 10 or 11 months down the line as opposed to putting their efforts into the here-and-now races. The prime winter jumping window from November to February has a number of major targets that are not simply Cheltenham staging posts.
Races like the Tingle Creek (which has a strong record for returning winning favourites) and the King George VI Chase (where it pays to back repeat winners) are tremendous betting opportunities.
There are also plenty of big fixtures in Ireland, such as the early February two-day Dublin Racing Festival, where trainers assemble their potential Cheltenham squads.
A brief word of warning: many of the handicap races held in January and February feature horses that may look like probable winners. Connections may, however, be "saving them" for a couple of big spring targets.
Why use BetConnect for flat and jump racing?
As with many of these things, personal preference may end up dictating whether you focus more on the flat of the jumps. Either way, BetConnect is the place to head to for your bets from 9 am every day on the day of racing.
BetConnect is a hybrid solution that combines many of the strengths of the Betfair model – it is, after all, a peer-to-peer exchange – alongside the reassurance of big bets being matched without restrictions.
Available prices quoted are based on real-time markets provided by a wide range of online bookmakers. The platform gives bettors reassurance that they are getting the best bookie prices while layers know where to head for matched betting opportunities.
BetConnect's single biggest advantage is its ability to fuse three disparate groups of individuals:
Professional punters who have grown frustrated by restrictions imposed on them by the bookies
Recreational players who enjoy backing and laying selections
The growing community of matched betting enthusiasts
If you think you're ready to bet on horse racing or any other sport then sign up for a BetConnect account now. BetConnect is the only exchange that lets you back selections at bookie odds with no restrictions and lay the selections of other account-holders commission-free. Not sure how it works? Read this simple guide.