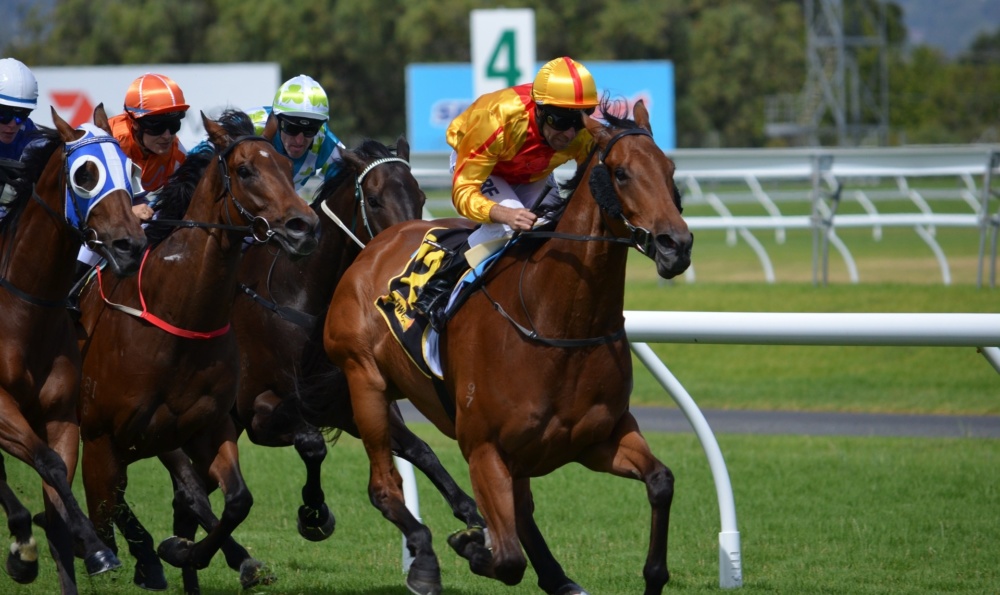 The racecard: the first port of call for any turf student studying form. But what do all those numbers and letters actually mean? This simple guide has everything you need in order to know how to read a racecard.
How to read a Racecard: Picking Winners
First and foremost, the purpose of a racecard is to convey as much useful information as possible, in the neatest and most succinct way. It is there to help punters make an informed decision on who to bet on.
The exact layout of a card can vary slightly from website to website. In this blog post, when we use the word "racecard", we're referring to the official racecard you might buy at the racecourse when attending the races, as well as anything printed in a newspaper or displayed online. It's all pretty much the same.
How to read a Racecard: Race Title
Every racecard displays all the races sequentially from a particular fixture. The first thing to note is the information contained in the time, title and conditions section. If you want a real example, take a look at the Racing Post website – our information relates to imaginary horses.
2:30 Wolverhampton (AW)
The Old Plodders Handicap (Class 3) (3yo+ 0-70)
Winner: £3,000
Runners: 8
Distance: 1m2f
Going: Standard
Channel: CH4
So what does all this tell us about the race?
2:30
The time at which the race will be run. Actual start times may be slightly delayed but no race can start earlier than advertised.
Wolverhampton (AW)
The name of the course at which the race is taking place. Here the (AW) informs us that Wolverhampton is an all-weather track.
The Old Plodders Handicap
The title of the race, will often feature the name of a corporate sponsor. Should a race be a handicap event, the word handicap will always be included in the race's title itself or in brackets immediately following the title i.e. (handicap). Note, for jump racing, this section will also inform us whether the race is a chase, hurdle or national hunt flat race (NHF.)
Class 3
The Class of the race. Ranging from Grade 1 (the best) to Class 6 (the worst) in National Hunt; and Group 1 (the best) to Class 7 (the worst) on the flat.
(3yo+ 0-70)
This tells us which types of horses may run in the contest. All horses with at least three runs are given an official handicap mark. This ranges from a base of 45 on the flat up to 140 in Frankel's case. Over jumps the top rated are normally no more than 180 unless it's an exceptional horse. This race in particular is open to all runners aged three years old and over who have an official rating up to 70.
Winner: £3,000
The amount of prize money awarded to winning connections. This level of prize money is at the lower end of the scale. The Saudi Cup run at Riyadh racetrack is at the other end with the owners taking home a first prize of more than £7.4 million.
Runners
This is simply just the number of runners declared to run in the race. This is particularly important when considering how many places will be on offer for an each-way bet. The declared number of runners can differ from the actual number of runners who take part. If you back a non-runner at BetConnect your stake is returned.
Distance
The distance over which the race will be run in miles, furlongs (eighths of a mile) and yards. Five furlongs is the shortest race on the flat with the Grand National over four miles, two and a half furlongs, the longest race over jumps.
Going
This refers to the condition of the track. In all-weather racing, this will always be either standard (St) or standard/slow (St/Slw). For turf racing the scale ranging from softest (slowest) to firmest (quickest) is as follows: Heavy (Hvy); Soft (Sft); Good to Soft (GS); Y (Yielding, only used in Ireland), Good (G); Good To Firm (GF); Firm (Fm).
Channel
This tells you which TV channel is broadcasting the race live.
How to read a Racecard: The runners
Now we need to check how each runner in a race is presented on a racecard.
The information will generally be displayed in this order:
1²… 821305… Banana Bob b … 6x … CD12 … 6 … 9-4 … Nicky Nicholls… Frankie Fallon (5)
Starting from left to right, let's explain what all of these numbers mean.
1
This simply refers to the racecard number of the runner. This number will appear on the horse's saddlecloth during the race itself to help punters and commentators identify them.
2
This number tells us where the horse is drawn and only applies to flat racing. The draw can be seriously handy information at tracks with a strong draw bias such as Chester. At other fairer or straighter tracks, it is less of a factor.
821305
These six numbers represent the horse's six latest finishing positions, with the most recent being the number on the right. This is really self-explanatory, with the 5 telling us that Banana Bob finished fifth last time out. Any finishing position of 10th or worse is listed as a 0. Secondly, on a real racecard, you will notice that a few of the digits are displayed in bold while others are not. In flat racing bold digits refer to a race run on an all-weather surface. In jumps racing, they represent form in point-to-point events.
Letters and Symbols
As well as numerical digits, there are a number of letters and symbols which may appear in a horse's recent form figures. They are as follows.
–: This represents a gap between seasons, i.e. in the form figures of 183-25 the 1,8 and 3 refer to runs in the previous season
/: This represents a gap of two or more seasons
P: Pulled up (Did not finish the race)
F: Fell
U: Unseated rider
R: Refused (generally refers to refusing to even attempt to jump a fence or hurdle but can also be refused to race which is more commonly RR)
C: Carried out (usually means driven off course by another runner)
L: Left at start
O: Ran out
B: Brought down
S: Slipped
V: Void race
d: Disqualified
Banana Bob
The horse's name.
b
This tells us that the horse will be wearing blinkers. In fact, any racing aides the horse will be wearing for the contest will be listed here. The other varieties of headgear are:
v: Visor
e/s: Eye shield
h: Hood
t: Tongue-strap, also known as a tongue-tie
P: Cheek pieces
W: Recent wind op (to help horse breathe)
When looking at this area of the racecard, look out for the presence of the number 1 in the notation. For example, b1 denotes that a horse will be wearing blinkers for the first time in a race. The addition of concentration aids such as blinkers or cheek pieces, or breathing assistance in the form of a tongue strap, can often result in an improvement in form.
6ex
Any penalty that a horse is required to carry in addition to those displayed in the advertised conditions, usually for a recent win gained before an updated handicap rating has been produced.
CD
This tells us the horse has previously won over this exact course and distance. It is always reassuring to see this when weighing up, especially on a quirky track such as Brighton or Goodwood. This is also a big plus at the Cheltenham Festival as horses with prior course form have a strong record. Other notations that may appear in this area of the racecard are:
C: Has previously won at the course (but not the distance)
D: Has previously won over this distance (but not the course)
(When the letters C and D are displayed separately this means the horse has won at least once at the course but not at the same distance AND has won over the same distance at a different course or courses.)
BF: The horse was a beaten favourite last time out.
12
This tells us the number of days that have elapsed since the horse last ran in a race under the same code. In general, a recent run is preferable to a significant absence from the track, although certain runners do go particularly well first time out after a break. Just look through a horse's previous runs to get this info.
You may occasionally see something along the lines of 100 (15) in this section. This tells us that it has been 100 days since the horse has run in a race of the same code as the contest in question, but it has run 15 days ago under a different code. This can occur when a jumps performer has recently competed on the flat or vice versa.
6
The age of the horse in years, with each horse ageing one year on the 1st January each year irrespective of their biological date of birth.
9-4
The weight to be carried by the horse in stones and pounds. In handicap contests, this will be determined by the horse's official rating (OR).
Nicky Nicholls
The name of the horse's trainer will appear here. Another significant factor, is as trainers tend to go through hot and cold patches throughout the season. Trainers are creatures of habit and some are particularly worth following at certain courses or in particular race conditions.
Frankie Fallon (5)
The name of the jockey. The (5) here tells us that our jockey is an apprentice jockey (flat) or conditional jockey (jumps). As relatively inexperienced riders, apprentice/conditional jockeys can claim a certain amount of weight off their mounts' back. The number in the brackets tells us how much weight they are able to take off. Frankie Fallon is permitted to claim 5lbs. This means that Banana Bob will actually carry 8st13lbs in this race. (9st4lbs – 5lbs = 8st13lbs).
How to read a Racecard: More detailed racing form
With the constraints on newsprint, it is best to head online for more depth. For example, links from the racecard will lead you to actual race results, showing you what happened.
Rather brilliantly, you can actually watch a video of any race finish free of charge on either the Racing TV website (which has the archive rights for all racecourses in Ireland and Scotland, plus the majority of courses in England) or At The Races (which has archive rights for some courses in England and the three courses in Wales).
You should use the evidence found in video re-runs in conjunction with any race-reader comments published online within a racecard and any other information you can glean from online databases.
Over time, you will learn to read a race yourself and you might find that your opinion differs markedly from published comments and generally accepted wisdom about past performance. In these scenarios, you may unearth some striking value that will help you pick a selection next time out.
How to read a Racecard: When will my horse run next?
The Racing TV and At The Races websites both offer a free tracker service. If you think a horse has run well and you believe it could win next time you can add it to your tracker. When it is next declared to race you will get an email notification alerting you.
They even allow you to write your own notes about the horse to remind you what you liked about its last performance and what kind of conditions might suit it next time.
How to read a Racecard: How important is race pace?
Some tipsters frame their entire strategy around the clock. In flat racing, they might collect data for sections of a race as well as the raw time. Very often you will hear about a "race being run to suit" a particular horse but not another. Some horses perform well off a fast gallop, others are happier when there is a steady pace throughout because they have a strong finishing kick.
Sectional data is not generally recorded in a way that makes it easy to find historically although this is something that is starting to be brought in for the major flat meetings in England.
So that pretty much sums up everything you need to know about reading a racecard. If you think you're ready to bet on horse racing then sign up for a BetConnect account now. BetConnect lets you place your bets at the best odds without the need for multiple bookie accounts or odds comparison sites. Not sure how it works? Read this simple guide.