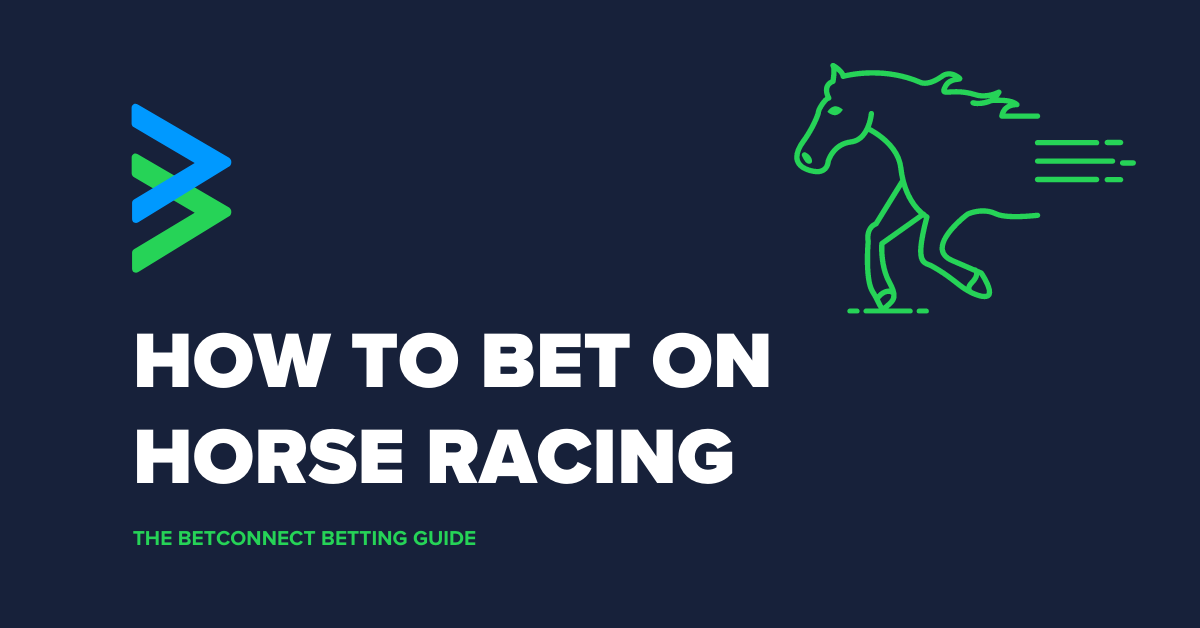 Horse Racing Betting Guide
Horse racing can be a very complex sport to those who are new to it. With so many tips flying around and online betting, how do you know what to bet on yourself? Well, this is where we are helping you out with our guide to horse racing terminology, bets and strategies. BetConnect can guide you through the maze of betting jargon that you might not be familiar with to make you more knowledgeable and comfortable with your horse racing betting.
Horse Racing Betting Terminology
Horse racing has a multitude of specialist terms. Confusion from these is common for a novice punter. Even some experienced bettors might not know all the terms. Below are some of the key terms for you to know when it comes to the sport of horse racing.
Form
Every horse has their finishing position noted, this is their form. The horse who finishes first gets a 1 on their form, the second 2 and so on all the way to ninth. Finishing tenth or worse gets a 0. Letters also contribute to form as follows. F is a faller, U is unseated rider, P is pulled up (so didn't complete,) C is carried out, R is refused at an obstacle, RR is when a horse refuses to race, B is brought down and V is a void race, a contest that was started but something happened part way through saw it not completed.
Handicaps
A handicap is a type of race where each horse carries a set weight based on their ability. The theoretical idea of handicaps is that all participants finish in a straight line, though naturally, this never happens. A horse rated 60 for example will have to carry two pounds more than a horse rated 58 in a bid to level the playing field.
Handicaps are contested at all levels of the sport. There are more low level than top but some of the best to have raced have done so in handicaps. Big field and often larger prices make them a favourite with bettors.
All of the big meetings through the year from the Cheltenham Festival to Royal Ascot have a multitude of top class handicaps which are among the most competitive in the entire calendar year.
Non-Runner
A horse who has been declared for a race and is then subsequently taken out, they are termed a non-runner. This can happen for many reasons. The horse may have picked up a small injury, could be ill or simply has been off their food.
Odds
The odds represent each horses chance of winning a race. These can be expressed as fractional i.e 2/1 or decimal i.e 3.0. Decimal odds are always one point bigger than fractional as they include the stake returned. While punters might get used to prices like 15/8, decimal odds, in this case 2.875, are often easier for novice bettors to understand.
Bigger odds will often lure in the novice punter who is simply looking at the return. Take a 66/1 chance for example, a £1 win bet would return £67 if the horse were to win. Put it another way, for each 67 times a race is run, the horse would be expected to win 1! The bigger the odds, the less likely the horse will win.
That is not to say that they don't! There have been some monumental shocks in the sport of horse racing down the years. We have a blog on the biggest-priced winners in horse racing history.
Photo Finish
In the event of a tight race, the judge can call on a photo finish. A camera is set up on the winning line with a mirror on the opposite side This camera takes a rolling photo as each horse crosses the line with a mirrored reflection. This is a big help when it's hard to judge which horses nose is in front. Some bookmakers also offer betting on a horse racing finish which is popular with some bettors.
Race Cards
A Race Card refers to the physical booklet that can be bought at any racecourse which contains all the form. It is also found in the newspaper coverage of the racing. The data contained is crucial for anyone looking into horse racing betting. It contains the full form, the information about every participant as well as horse racing betting tips.
Rule 4
A Rule 4 occurs when a horse is taken out after a market has been formed. These are taken as the market cannot be reshaped on bets already placed. A Rule 4 is to adjust for a horses new chance of winning. The amount taken varies based on price. A price bigger than 14/1 has no deduction.
Horse Racing Betting Types
These are some of the most popular types bets
Accumulator (Acca) – A multiple bet where all participants need to be successful to win.
Full Cover – A full cover is a bet made up of many selections which covers all possible combinations across the selections.
Handicap – There are not many handicap bets in racing but there is a distance bet which is similar. You bet on a horse to win by a certain margin or bigger.
Multiple – Anything from a double upwards is a multiple. Generally this term is more used to describe bets such as a Lucky 15 or a Goliath with many participants.
Single – As simple a bet as there is, a bet on just 1 horse.
Here is a full rundown of all horse racing betting terms. Some of these are not used much in modern day betting or in the UK but they are still mentioned from time to time.
| | |
| --- | --- |
| Type Of Bet | How It Works |
| Accumulator (Acca) | A number of selections in a multiple bet. This can be win or each way but all selections must be successful (win/place) for the bet to be a winner. |
| Alphabet | This is a bet made up of 6 selections, across 26 different lines. These comprise 2 Patents, a Yankee and a six-fold accumulator. The patents are split by selections 1-3 and 4-6 while the Yankee are selections 2-5. As such the two weakest selections are placed in slots 1 and 6. Just one successful selection produces a dividend. |
| Any To Come | An Any To Come bet is a conditional wager that requires a winning bet to start, with the winnings from that then rolling onto the second bet. These can be made up of multiple selections but those further picks are only valid if the first one is successful. |
| Each Way | An each way bet comes in two parts, made up of a win bet and a place bet. The amount of places on offer depends on how many runners are in a race. 4 or less and there is no place betting, 5-7 runners is 2 places, 8-15 is three and handicaps with 16 or more runners are 4 places. Some bookies will offer extra places on races which is a bonus for the each way punter. |
| Exacta | An exacta is a Totepool bet of two or more selections where the aim is to select the first two horses home in the correct order. Punters can also do a reverse exacta where the selections can finish in any order as long as they are first and second. |
| Flag | Four selections make up a Flag bet which is a multiple comprised of 23 lines. These are made up of 6 doubles, 4 trebles, a four-fold accumulator and 6 pairs of single stakes about pairs. The latter are the most complex part of this. The single stakes about pairs are done as a rolling double so all winnings from selection 1 go onto selection 2. Both selections need to be successful for that part of the bet to pay out. |
| Forecast | A forecast is another name for the exacta bet, used primarily by ordinary bookmakers. Generally this refers to picking the first two horses home in the correct order. There is also a reverse forecast which is detailed below. |
| Goliath | No surprise given the name but this is a monster multiple made up of 8 selections and 247 lines! There are 28 doubles, 56 trebles, 70 four-folds, 56 five-folds, 28 six-folds, 8 seven-folds and an eight-fold accumulator. At least two successful selections are needed for a return. |
| Goliath Flag | 8 selections make up a Goliath Flag bet across 303 lines. These are 28 doubles, 56 trebles, 70 four-folds, 56 five-folds, 28 six-folds, 8 seven-folds, an eight-fold accumulator and 28 single stake about pairs. |
| Heinz | Made up of 57 lines across 6 selections, a Heinz is made up of 15 doubles, 20 trebles, 15 four-folds, 6 five-folds and a six-fold accumulator. |
| Jackpot | A Tote bet where the aim is the pick the winner of the first 6 races on the card. Bettors can pick their stake and as many selections per race as they wish. Selections multiply so if 2 horses are picked in each race, that makes the bet 64 lines (2X2X2X2X2X2) so watch your stakes. |
| Lucky 15 | A Lucky 15 is a multiple bet of 4 selections. This constitutes 4 singles, 6 doubles, 4 trebles and a four-fold accumulator. One correct selection is needed to pick up a dividend. These can be win only or each way. The stake of the bettor is multiplied 15 times. A £1 win Lucky 15 will cost £15 in total, a £1 each way Lucky 15 will cost £30 as it covers both the win and the place side. |
| Lucky 31 | A multiple bet made up of 5 selections containing 5 singles, 10 doubles, 10 trebles, 5 four-folds and a five-fold accumulator. As with a Lucky 15 just one correct selection produces a dividend and they can be win or each way bets. Your stake is multiplied by 31 so a £1 win Lucky 31 will cost £31 and a £1 each way Lucky 31 will be a stake of £62. |
| Lucky 63 | Another multiple bet but this time made up of 6 selections. They are 6 singles, 15 doubles, 20 trebles, 15 four-folds, 6 five-folds and a six-fold accumulator. They are calculated the same as the above, a single correct selection produces a return with win and each way bets available. As many selections as this can make for a big stake as your stake is multiplied by 63. A £1 win Lucky 63 will cost £63 in total while a £1 each way Lucky 63 will set a bettor back £126! |
| Patent | Patent's are made up of 3 selections. They comprise 3 singles, 3 doubles and a treble and can be win or each way. A single correct selection produces a return. |
| Place | With a place bet, the bettor is looking for something to finish in the frame. How many places are on offer depends on how many runners are in the race, see each way betting above. The winner also constitutes a place so a punter won't miss out if picking the winner with a place only bet, though they will only be paid the place dividend. In America a place bet is betting to find a horse to finish in the first two to be paid out as a second. |
| Placepot | Similar to the Jackpot bet but where the bettor is tasked at finding a horse to place in each of the first 6 races on a card. The same multiplication of selections happens as with a Jackpot bet. |
| Reverse Forecast | A bet where the aim is to pick the first and second home in a race, these can finish either way round. Punters can add more horses in to multiply the stakes with the aim still to get the first two from those selections. |
| Round Robin | Made up of 10 lines from 3 selections, a Round Robin comprises 3 doubles, 1 treble and 3 pairs of single stakes about bets. See 'Flag' above to see how single stakes about bets work. |
| Show | This is a bet primarily used on the Parimutuel in America where the objective is to find a horse to finish in the first three, paid out just to finish third. |
| Superfecta | A Superfecta tasks a bettor with finding the first four horses home in a race. These are very rarely seen in the UK, generally only found as a Tote/Parimutuel bet in the USA. |
| Super Flag | 46 lines from 5 selections make up a Super Flag bet. These are 10 doubles, 10 trebles, 5 four-folds, a five-fold accumulator and 10 single stake about pairs. |
| Super Heinz | 7 selections make up a Super Heinz bet, producing 120 lines. These are broken down as 21 doubles, 35 trebles, 35 four-folds, 21 five-folds, 7 six-folds and a seven-fold accumulator. With no single bets as part of a Super Heinz, at least 2 selections need to be landed to score a return. |
| Super Heinz Flag | 162 lines across 7 selections make up a Super Heinz Flag. These comprise 21 doubles, 35 trebles, 35 four-folds, 21 five-folds, 7 six-folds, a seven-fold accumulator and 21 signal stake about pairs. |
| Super Yankee | A Super Yankee (or Canadian) is a bet formed of 26 lines across 5 selections. It is comprised of 10 doubles, 10 trebles, 5 four-folds and a five-fold accumulator. At least 2 successful selections are required to gain a return. |
| Trifecta | A trifecta is a bet where the bettor looks to select the first three home in the correct order. These can be done as an all ways bet where every permutation from the selections is available so they can finish in any order as long as they are the first three home. |
| Trixie | Three selections make up a trixie which contains 4 lines, 3 doubles and a treble. 2 successful selections are required to gain a return. |
| Union Jack | 9 selections form a Union Jack, split into three rows of three selections which makes up 8 trebles. The bettors strongest selection goes in the middle as this pick is in every treble. The corners are the next strongest selections as they are in 3 trebles while the middle of each side (only in 2) are where the weakest selections are put. At least 1 winning treble is required to gain any return from the bet. |
| Win | A win bet is about the most simple bet that a punter can have. It is all about betting which horse will win the race. |
| Yankee | Four selections make up a Yankee across 11 lines. These are made up with 6 doubles, 4 trebles and a four-fold accumulator. At least two successful selections are required to obtain a return from this bet. |
Horse Racing Betting Timing
Timing is key when betting on horses. From bets placed months in advance of a race to those placed while the contest is in motion, the timing of a bet is key to being able to maximise profit.
Ante-Post
A bet placed in advance of a contest is termed ante-post. The Cheltenham Festival can see markets formed a full year in advance. That is not always the case, some markets are only open for 48 hours or less.
Starting Price (SP)
When a race starts, the price of each horse is taken. This is the starting price or SP for short. This was taken as a general consensus of the betting ring on track but is now taken from the off course bookmakers.
In-Running
A bet placed while a race is running is termed in-running. Primarily an exchange bet but some ordinary bookmakers do offer in-running prices. These markets are very fast moving. As such, punters without experience must be wary on in-running betting. Those who bet in-running at the track or via a high speed link to pictures beamed in from drones above the track have a massive advantage over the ordinary punter.
Horse Racing: Types of Bookmaker
Bettors have a wide range of options available to them when it comes to placing a bet. From betting against a bookmaker or betting against a fellow punter to placing stakes into a pool, horse racing has many types of bookmaker with which to place a bet.
Exchange
An exchange allows peer to peer betting where a bettor can both bet on a selection to win and also to lose. BetConnect is one such exchange. This adds more variety to the mix, especially for those who put a lot of time into the sport. The ability to lay is a help for the matched betting community. For more on this, please see below.
Fixed Odds
When betting with a traditional bookmaker, fixed odds are what you will receive, whether that's online, in the shops or on the track. Returns are therefore clear for the bettor which makes it easier for a novice punter.
Parimutuel
The Parimutuel or 'Tote' as it's known in the UK and Ireland is a pool based betting product. Stakes are collected, a cut is taken by the supplier before punters take their split of the fund. Payouts can vary wildly but the Tote are now matching bookmaker SP if their payout dividend would be lower than a fixed odds bookmaker which is a help to bettors. Often big priced outsiders can be larger prices still on the Parimutuel.
Horse Racing Betting Strategies
There are many different ways to bet on horse racing and strategies that bettors use to try and make themselves a profit. The below are strategies are not right for every punter and some take lots of time and skill to perfect.
Dutching
Dutching bets are when a bettor will back differing results with different bookmakers. This is a little more common in team sport betting like football where there are only three true outcomes. It can be used in horse racing, however. In a race where the bettor only believes two have any chance of winning, dutching the pair is used in a bid to grab a profit.
Hedging
Hedging is also backing more than one outcome in a bid to try and narrow the field. It is similar in effect to dutching where having backed horse A, a punter will then also place a bet on horse B. This is generally done if the discrepancy in price is bigger than expected. In horse racing this is more to minimise a loss rather than trying to maximise a profit.
Matched Betting
Matched betting has become one of the most popular ways of betting in recent years. Bettors take advantage of the free sign up bonuses on offer with the bookmakers, laying bets off on exchanges such as BetConnect to lock in a profit no matter the outcome. BetConnect have our own service called Matched Betting Pro which can help punters further still by giving them 60 seconds to lock in a lay bet. This means that bettors can bet safe in the knowledge that the price won't change.
Matched Betting Explained
The fundamental idea behind no-risk matched betting is to use bookmakers sign-up bonuses to make a risk-free profit. .
When signing up with a new bookmaker and placing your first wager, you lay against that on an exchange. Using BetConnect for this purpose is ideal as there is no qualifying loss and no commission. Factoring in these things makes a bet calculator invaluable.
This will trigger your free bet with which you repeat the process to lock in that all important risk-free profit. Do that with every sign up offer to get yourself started. Then take advantage of reload offers which are provided. If you need help with matched betting then we have a guide on how to turn a free bet into real cash!
Summary
Horse racing is a very complex sport. Experts spend years perfecting their craft when it comes to being able to pick winners. We hope than our horse racing betting guide has proved to be helpful and you now feel more confident when it comes to placing a bet. Don't forget that we have an ever growing blog section full of guides like this on sports, including our Definitive Football Betting Guide.