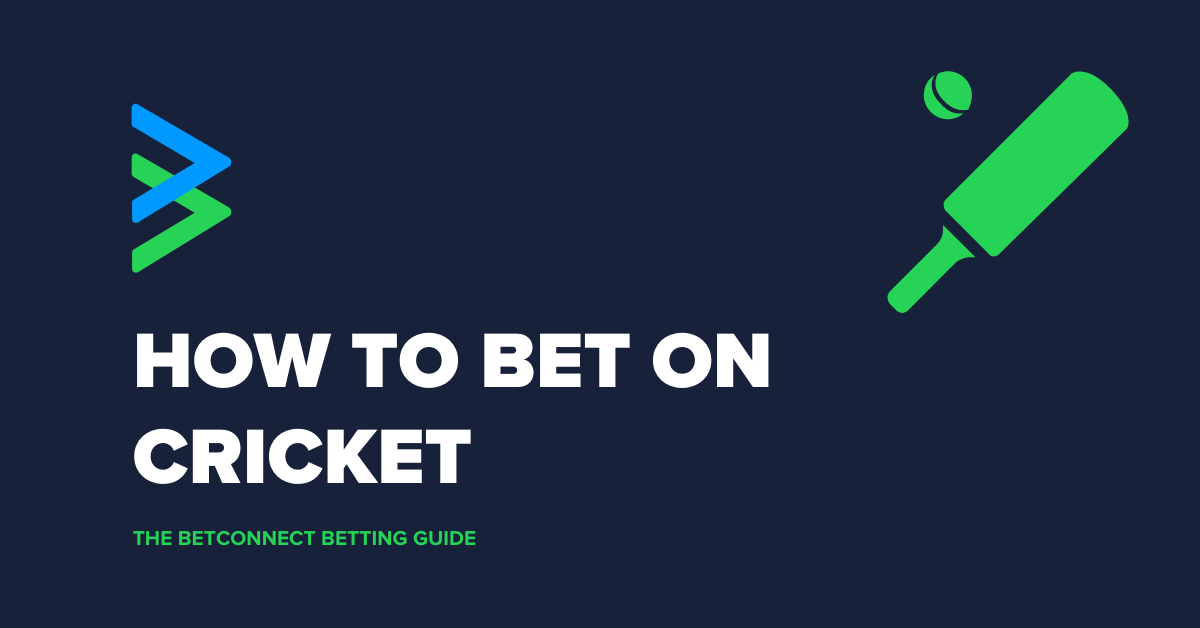 Cricket Betting Guide
An exciting part of sports betting in the 21st century is the ability to place stakes on games across the globe, meaning summer sports like Cricket can now be bet on all year round. This is great for fans with various online cricket betting sites offering odds on games between international and league teams. Along with great odds on cricket matches and competitions at home and abroad, in-play updates keep bettors informed of all the action, no matter where it is.
There is a lot of great online cricket betting potential available in games with various formats and their respective competitions to place bets. This means that fans of Cricket can place bets on the huge selection of fixtures that happen throughout the year. All cricket formats, either Test, One Day International (ODI) or Twenty20, provide various opportunities to place gameplay stakes.
The first known historical reference to Cricket gameplay comes from a court case in Surrey, which dates back to 1597. Originally Cricket was played by children in their free time or at school, with adult play becoming prominent after the Stuart Restoration in 1660. Placing stakes on gameplay was first introduced around this time with the 1664 Gaming Act limiting stakes to £100, which was still a massive amount of money. When the press first mentioned cricket game coverage in the early 18th century, the content was based more on bets than gameplay.
The International Cricket Council was founded in 1909 by Australia, South Africa and England, although titled the Imperial Cricket Conference to begin. Limited Overs cricket was first introduced in the 1960s, appealing to an audience that wanted Cricket gameplay to end in a single day. Modern cricket formats that require less playtime, like ODI and Twenty20, have become more popular recently, with online cricket betting stakes settled quicker than in the Test cricket format.
Cricket Betting Explained
The game of Cricket is played between 2 teams consisting of 11 players taking the positions of batters, bowlers and a wicket-keeper. In Cricket, you want to score more runs than the opposing side in a set period. A run is scored when the batter hits the ball and runs to the crease line where the bowler is positioned.
Teams take turns to bat and bowl, with the bowling side trying to stop their opponents from scoring runs by getting the ball back to base quicker. The time during which a single team bowls or bats is called an innings, which ends once all batters are out of play or the game is ended. The bowling team is hoping to get wickets by taking a batter out of play; there are various ways that the bowling team can do this:
Batters can be caught 'out' when they hit the ball, and a fielder catches it before it hits the floor.
Batters can run 'out' by being caught between the two creases when the ball is returned to the bowler or wicketkeeper.
Batters can be stumped 'out' but the wicketkeeper usually when leaving the crease to play a shot.
The umpire can remove batters via the Leg Before Wicket (LBW) rule if the ball hits the batter and could have hit the stumps behind them.
Form of Cricket
In Test cricket, teams will play the game over a maximum of 5 days, during which teams will try to collect as many runs as possible over two innings of 10 wickets. Once the first team bowling has collected the 10 wickets of the opposing side, the team's roles are swapped as the original bowlers take their turn to collect runs. When the teams swap, the original bowling side has ten wickets to match or beat their opponent's score; if play finishes with the wickets, the game is considered a draw.
The One Day International format of Cricket tends to last up to 9 hours, in which each team has one inning of 50 overs to play. The first team to be batting sets a target score in their single innings; this is the score the second team will have to reach before ten batting players are out or 50 overs are played. If the second batting team beats the target score, they win; if they are bowled out or run out of overs, the first batting side wins.
The most modern cricket format played professionally is Twenty20 Cricket which normally lasts 3 hours. This format restricts each team to a single inning of up to 20 overs in which they try to score as many runs as possible. Each bowling team has 75 minutes to complete the twenty overs with a 7-run bonus given to the other time should the bowling side not finish within the time limit. This fast-paced gameplay has proven instantly popular amongst cricket fans and gamblers.
Online Cricket Betting Odds
The odds used across online cricket betting sites relate to the calculated chance of that bet becoming a reality and paying out. The odds are often displayed in a fractional calculated as the likelihood of a bet happening against the likelihood of it not happening. For example, an outright bet on England to beat Pakistan with odds of 11/10 would payout 1.1x the stake if England wins the match. To calculate these odds, you need to divide the number on the left by the number on the right, with the answer being how much the stake will be multiplied by if it comes out.
There will be different bets available across online cricket betting sites; we at BetConnect search the internet for the best odds and offer them on-site, so you don't have to. One of the most important cricket betting tips is understanding the odds of bets you place and the payout return should these bets come off.
Online Cricket Betting Markets
There is a great range of bet markets available across online cricket betting sites when it comes to placing stakes on live cricket matches and competitions. The simplest bet market to understand is Outright bets, based on backing a team to win the match or competition, with the bet paying out if they do. The Outright cricket bet often offers the lowest odds online; an accumulation of match winners in a single bet will offer greater odds and returns if they come out.
If you're particularly confident about a team's chances of winning over their opponent, then another way to access greater betting odds is via Handicap betting. This cricket betting market adds a hypothetical advantage for the side least favourite to win, often in the form of points, e.g. +30.5 runs. This means that the side favourite to win will now need to do so by a greater margin for the bet to the payout, but with a greater return if they do.
Another exciting cricket betting market is the Over/Under bets; these can be based on the total number of runs or wickets in a game. This could be the total number of runs or wickets by both teams combined or by a single team or player. Cricket games can often include high scores, so it's not unusual to see these Over/Under margins include high numbers to be bet.
A huge selection of betting markets is available with professional Cricket, including player and team bets. You can also place stakes on the outcome of the first Ball or Over in play with many different outcomes like runs and wickets to bet. Check out the odds available after this cricket betting guide to see all the exciting markets available to place stakes on.
Cricket Betting Tips
Whether you're new to professional cricket gameplay and sides or not, there are certain tips to provide the best possible chance to place a winning bet. When placing bets, find out as much about the team's form and players as possible; it shouldn't be hard to quickly search for the team at an online cricket betting site. Many favourite teams will be reflected in the odds; however, surprising results are not uncommon, especially with fast Twenty20 gameplay. Players' form or health issues could impact an otherwise favourite team's odds of winning, which is why it's important to know the players' state before a game.
Popular Cricket Events/Tournaments
There is a great selection of cricket fixtures to place stakes on every year, with many of the biggest teams and names participating in various competitions all year round. Here are a few key dates we think are worth a mention in this online cricket betting guide:
The Ashes Series
This Test cricket series takes place every two years between the national teams of England and Australia. The name came from a British newspaper heading after Australia's victory at The Oval in 1882, stating that "English cricket had died and the body cremated with the ashes taken to Australia". This Test series has been played since then with an urn that contains the ashes of a burnt cricket ball symbolic of this series. The long history behind this series gives very competitive gameplay, which fans and sporting press get behind every time the series is played.
T20 World Cup
Like the Twenty20 format of play, this tournament is fairly new, first in 2007 and occurring every two years from then onwards. The fast-paced gameplay gives national sides 20 overs in which to collect more runs than their opponents, a format that is particularly popular in India and Pakistan. The most successful team to date at the T20 World Cup is the West Indies, having won the competition in both 2012 and 2016.
ICC Cricket World Cup
Arguably the biggest tournament in international Cricket since 1975, the World Cup takes place every four years in venues around the world. This competition plays a One Day International format, with the 2019 World Cup using a round-robin style tournament to determine teams advancing to the semi-finals. Alongside the World Cup trophy, other awards are available in the Cricket World Cup, such as the Player of the Tournament and Player of the Match in the final. This provides plenty of betting potential, with game winners decided each day and lots of live action to place stakes on online cricket betting sites.
Cricket Betting Strategies
There are alternative strategies available for online cricket betting, such as matched betting cricket stakes. This form of placing stakes covers both bet outcomes to minimise the loss potential and is a key feature available here at BetConnect. This is done by placing an original stake or a 'back' bet on a team to win a match whilst placing a 'lay' bet on the team not to win. This means all outcomes are covered, and the bets are placed in a way so that losing money is not possible.
Matched betting Cricket might not provide the biggest payouts from cricket betting. However, the little payouts can quickly build up, specifically in big events like the ICC Cricket World Cup. The Matched Betting Pro software at BetConnect can help make the most from these bets by locking odds in place after making the back bet without paying a commission.
Online Cricket betting Summary
Hopefully, this cricket betting guide has been useful, and you are well on your way to some successful cricket bets. As you can see, there is plenty of opportunity to place stakes on professional cricket gameplay, with great odds available for online cricket betting. The exciting gameplay included here is great fun to watch and can be even more exciting when a bet is placed on it. Newcomers to online cricket betting might want to look into matched betting cricket games with good returns available from stakes.
Always gamble responsibly when placing stakes on cricket betting sites; many features are available to help you do so.