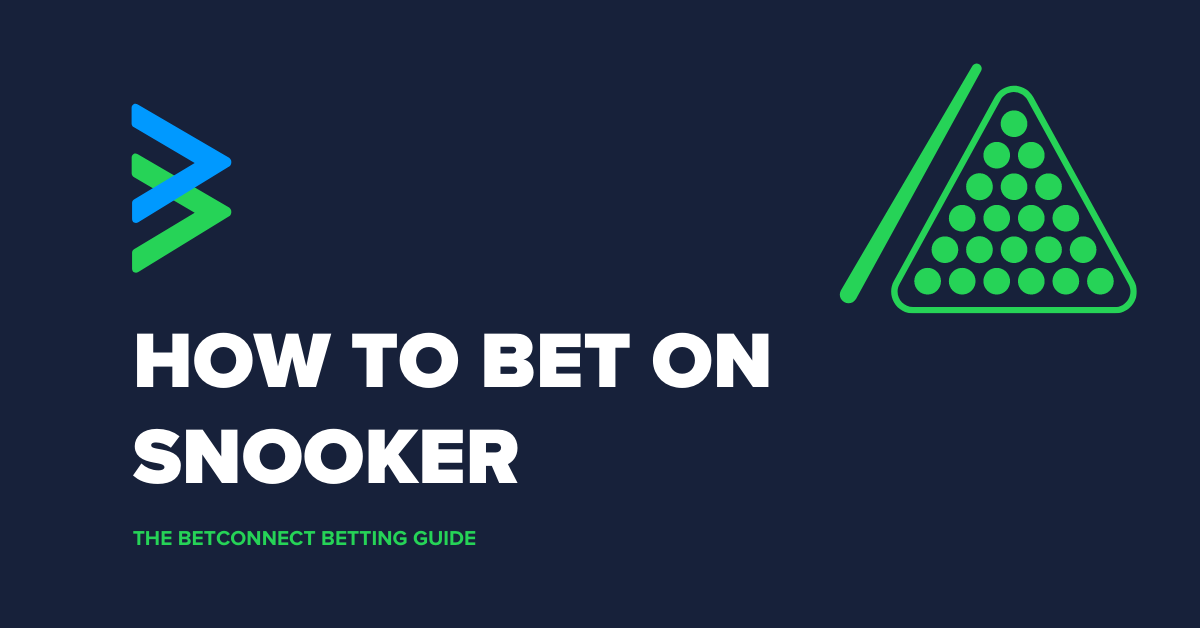 Introduction
Snooker is a popular game that some people may not even describe as a sport; although, by the actual specifications, it is! As with many other sports, you can place bets on various markets within Snooker. In this piece, we will introduce you to Snooker, its rules, how and where to bet on Snooker and then conclude the piece while mentioning some information about Matched Betting on BetConnect.
Snooker Betting Explained
Snooker betting is straightforward enough in its most basic form. Simply choose the market you wish to wager on and input your stake value before placing your wager. When placing a wager through a bookmaker, choose the result you believe will occur. If you are betting on an Exchange, you may place a wager on a result NOT occurring. Later, we'll go into more depth about them. Before placing a Snooker wager, you must be aware of minor details. These cover Snooker odds, guidelines, and scoring systems. To completely comprehend these three sections, a brief explanation will be provided under each of the following topics.
Odds
The odds of a wager reflect how probable the bookmaker believes the result will be. The odds on BetConnect are shown as fractional numbers, with 8/13 as an example. To comprehend betting odds, you must first be aware of the denominator and numerator. The Denominator is placed after the slash while the Numerator is placed before the slash. In fractional odds, you would win the Numerator value in profit for each Denominator you wager. For instance, you would win £8 on every £13 wagered, for a total profit of £21. Every market has different odds, and you may see them rise as high as 20/1 (£20 profit for every £1 bet!) or higher still in some sports.
Rules
One of the main rules is that the Cue Ball must hit the ON Ball after being struck with the cue. It is a foul shot if the Cue Ball does not strike the ON Ball. Other rules involve the ON Balls and how the game is played, with different players taking shots and moving around the table. You will not specifically need to know these rules to place bets on Snooker, but it is always worth it to understand how the game works before trying to watch live events.
Snooker Terminology
In many sports, the terminology is very important to understand. If you are trying to understand the sport of Snooker, then it is important to learn some phrases you could hear while watching live Snooker games. The following is some of this special terminology:
Pot
To put a ball into one of the pockets on the table.
Foul
To do something that is against the set rules.
Bank and Bank Shots
A Bank is a shot in which the ball hits any side of the table. A Bank Shot is where any of the walls are hit by the ball, which is pocketed. These can avoid hitting specific balls or making a more impressive shot.
Feather Shots
This is where the ball just hardly grazes the object ball but still counts as a legal shot.
Called Ball or Called Pocket
The called ball is the designated ball that the player must pot. The called pocket is the pocket in which the player says they will pot their next ball.
A Short History of Snooker
Snooker first came to light in 1875 when an army officer created rules that mixed two games; black pool and pyramids.
Black Pool is an old version of billiards originally known as everlasting pool. This game involved one coloured ball for each player and a black ball in the centre. An opponent must pay the player a stake if their ball is potted, and all opponents must pay the player if the player pots the black ball.
Pyramid Pool is another old billiards variant involving similar rules to Black Pool. In Pyramid, players placed a stake on each coloured ball; whenever one is potted, the opponent must pay the player that designated stake.
These two games were then blended, so both rules were combined, and the game Snooker came to life. Since 1875, the game has been played and has developed into a very popular, competitive and bettable sport.
Betting on Snooker and Snooker Betting Markets
With BetConnect, betting on a Snooker match is simple. Ensure you are logged in and have funds in your account balance first. Then, choose the game you want to wager on and the market you want using the drop-down option. The bet will be placed when you enter your stake amount (minimum £5) in the box. That's all there is to it; you simply have to wait for the bet to settle to determine whether you won or lost.
You may select from a variety of marketplaces for any sport and determine where you think your expertise or luck lies. Every snooker match may make bets on a few different markets. The following are the key markets to search for:
Match Result
The most common bets on snooker and most other sports are match result bets. You pick a matchup and bet on the person you think will prevail. A contest often has a "favourite" that the bookmakers believe will win. With BetConnect, you will always receive the best odds, giving you an advantage over other bettors. This is a huge bonus that not many players will understand or be lucky enough to have access to.
Handicap Result
Similar to a match outcome wager, but with an added level of speciality, it is a game handicap gamble. Consider placing a wager on a player to win but starting them with a deficit. In snooker, for instance, you may wager at a -2.5 handicap on Ronnie O'Sullivan to win a match by at least three frames (meaning in the bet, he starts the game with extra frames). If you bet on the underdog to win while giving them a positive handicap, they would theoretically start the game with an additional Game victory. This strategy also works in reverse.
Total Frames Over/Under
In Snooker, a 'frame' is much like a goal in football. These symbolise the points that a player scores during a game of Snooker. A frame is like a 'round' within the game, and you can bet on the number of 'rounds' played within a specific snooker matchup. The player must win six frames to win the first round of a normal snooker tournament. These are higher at the major championships where frame numbers go up round by round. The final of the World Championship is best of 35.
If you think the match will be very one-sided and somebody will win six frames in a row, you could place a risky bet on Under 6.5 total frames (meaning less than 7). Or if you think it will be evenly matched and could see it reach 5-5 on frames, you could bet on Over 10.5 total frames. The options are quite large.
Snooker Betting Strategy
You may wager on Snooker using a variety of strategies. Any of these choices are viable; however, if one of them is simpler than the others, that option is the best one for you. We'll outline the key betting strategies for you in the following sections. You learned about the various wagers you can make in the earlier parts; now, you only need to know where to go to make them.
Online Bookmakers
Online bookies offer the most convenient access to betting and sportsbooks. Numerous physical bookmakers were able to transition to the internet world as a result of the development of the digital world. Gamblers now have many additional possibilities, including using internet sportsbooks and casinos. As time goes on and more people throughout the world utilise the internet, this will only continue to change. Some examples of bookmakers outside of BetConnect include bet365, Paddy Power and Betfair.
Physical Bookmakers
If internet gambling is not your thing, your next choice is to visit a physical betting shop and play there. You may place your bets on pieces of paper and receive your winnings in cash from your local bookmaker. This has a significant advantage over other betting strategies for some people. The excitement of receiving actual money is far greater than figures on a screen. If you're fortunate enough to seem younger than 25, another benefit of betting at a betting shop is that you don't have to sign up or provide any paperwork other than your ID. The fact that many online gamblers dislike the lengthy and intricate sign-up process is often very clear.
Exchanges
A betting exchange, like the one provided by BetConnect or the Betfair exchange, allows you to trade wagers in addition to putting them on the market. They are less of a sportsbook and more of a market. Gamblers can back and lay or purchase and sell a scenario's result. As you are essentially putting a bet on the assumption that something WILL occur, backing an outcome is identical to placing a standard sportsbook wager. A Lay bet is offered on the opposing side and states that a particular event WILL NOT occur. The opposite of putting a normal bet is laying a bet.
Matched Betting with BetConnect
Matched betting is a straightforward idea. In matched betting, you use the free bets that various bookmakers give to brand-new clients. With such a broad range of bookies, you may continue using matched betting for a long time. You may participate in the game using Matched Betting Pro on BetConnect without having to visit many different bookies. Watching your balance decrease is significantly less satisfying than making a consistent profit with no danger to your bank account.
You may put a Lay bet using the odds for your chosen exchange at BetConnect (like William Hill) and then put the opposite bet on the William Hill website. By doing this, you will get identical odds on both sides, which means that regardless of the result, you will either break even and lose nothing or maybe make money. This eliminates the possibility of a qualifying loss and increases the allure of these wagers.
Triple Crown Betting
Like Tennis has the Majors, Football has the Cups and Leagues, Snooker has the three Crowns. These Crowns are the major Snooker events that play out each year, and players involved in these competitions will be looking to take home a victory from the whole treble.
The three sections of the Crown tournaments are the World Snooker Championship, the UK Snooker Championship and the Invitational Master's tournament. Players get the Triple Crown if they win all three of these tournaments. Only Eleven players have won the triple crown, including the infamous faces of Ronnie O'Sullivan and Judd Trump, along with others like Terry Griffiths, Shaun Murphy and Neil Robertson. There are many players involved and plenty to look forward to within the duration of the Snooker year.
Of course, you do not have to bet on which player you think will win the Triple Crown, but during each tournament, you can place bets on matches. These matches could see some brilliant players face off against each other and could make for some excellent betting opportunities.
Summary
Upon reading this introduction and explanation of Snooker betting, you should have all the information you need to get started. Of course, you do not have to bet with BetConnect, but we would recommend it because we guarantee you the best odds possible on every available market. You will not find any bookmaker who competes with our odds because we compile all of the best ones into one easy-to-navigate site. Snooker is like a form of Marmite in the sporting world, some people love it, and some people hate it. Personally, our team at BetConnect loves the sport and thinks there is some real value during some games and tournaments. Keep your eyes peeled, and always gamble responsibly!