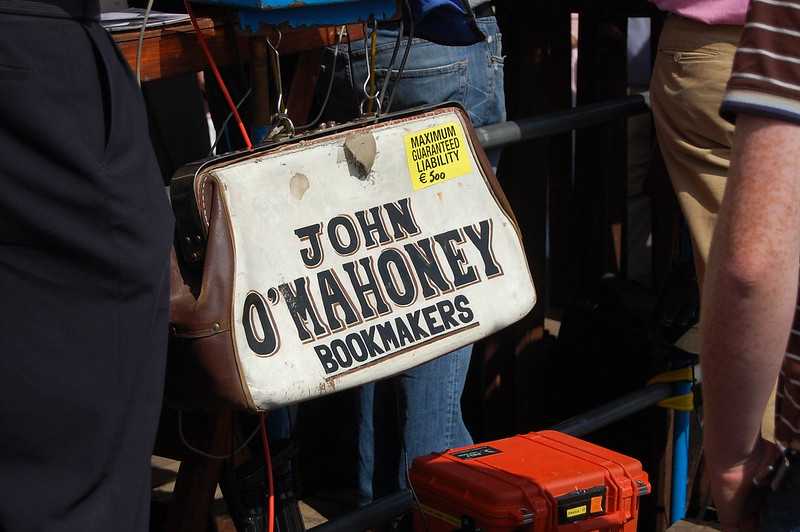 Betting has been popular for centuries but was once a crude and secretive world. Here's how betting evolved to the pastime we know and love today.
When did betting start?
Before the Victorian era, wagers were usually placed between men under a gentleman's agreement: a straight-up bet between two individuals who implicitly trusted the other to pay up.
There was no legal recourse to formalise the bet, and the notion of market setting and 'odds' were a long way off. To this end, most wagering was conducted in a binary manner.
For example, in predicting the answer to the question "Will Phileas Fogg successfully travel around the world in 80 days?" you were betting even money on 'yes' or 'no' and placing your bet with another individual known to you. In theory, either he would take your money, or you'd have his.
The new sport of horse racing expanded rapidly from the middle of the 18th century and took betting to another level. 
Who was the first bookmaker?
An astute entrepreneur from Lancashire, Harry Ogden, set up a pitch on Newmarket Heath close to Britain's oldest and most famous racecourse in the 1790s. He was close enough to the course that he and his punters could see the racing (and thus verify the results) but far enough away that he didn't get in the way of the administrators.
Ogden didn't price up all the horses the same. He realised some were better than others so he set different prices across the field. This gave punters a choice. They could bet tactically, opting to go for more security by backing the favourite or take more of a punt on an outsider, meaning they were less likely to win but could expect a healthy payout if they did.
To this day, once-a-year Grand National punters and occasional racecourse visitors understand this basic concept. Ogden was sharp, though. He built a profit margin into his book. In other words, if he thought a horse had a 20% chance of winning, he would not lay it at the true market odds of 5/1 but at something shorter, perhaps 3/1 or 4/1.
But he had to strike a balance. Overdo the margin in his favour, and punters would soon realise they were being ripped off. Underdo it, and he risked going out of business quickly. To this day, bookmakers are faced with this exact balancing act.
When did sports betting become legal?
In 1190, Richard I set up the earliest known gambling laws in Britain, determining maximum liabilities for a bet between two men while also decreeing which men were legally entitled to have a bet.
It was not, however, until 1745 that betting was restricted on pub sports like roulette and darts, though these rules were hard to enforce and by the following centuries gambling had become rife.
Even when bookmakers like Harry Ogden were permitted to operate there were no specific laws to ensure they paid out correctly. The government took the view that if you were stupid enough to bet, or lay odds, you shouldn't receive legal protections.
What did the Gaming Act of 1853 establish?
The 1853 Betting Act was brought in to make it illegal to use or keep any property for the purposes of betting or gaming. Betting continued to take place in private and particularly at racecourses.
By accident rather than design, the restrictions placed on betting proved the catalyst for the excitement that so many people felt for going out for a day at the races.
Victorian social reforms, such as paid holidays for workers, a growing middle class, public transport and new forms of advertisements, also allowed racecourses to flourish.
When Sandown Park held its first meeting on 22 April 1875, it did so as the first purpose-built racecourse. A boundary fence costing £2,000 was erected to enclose the whole estate so everybody who came racing that day had to pay an admission fee.
This put racing alongside sports like football and cricket as a ticketed leisure option.
How did football betting develop?
While greyhound racing developed as a betting product alongside horse racing, the next betting innovation came with the football pools in 1923.
Established by John Moores in Liverpool, the pools offered working-class men a means to have a punt on the football that cost an individual player very little but offered the chance of a big reward. A national obsession was born.
Incredibly, the football pools remained the most popular weekly 'betting' coupon up until 1994 when it was eventually superseded by the National Lottery in the hearts of the nation. You can still bet on the pools today.
When did betting shops become legal?
The 1960 Betting and Gaming Act was a watershed development that allowed betting on racing and greyhounds to take place in shops around the country.
Such shops were the first retail bookmakers and while these laws allowed betting companies to expand hugely they also gave opportunities for customers to increase their profits. The technology was not yet in place to allow prices to be cut in response to heavy bets and some famous gambles were orchestrated.
How 1990s tech led to betting expansion
Phone-betting became popular in the 1980s and is still used by some punters today. But it was the introduction of the internet that revolutionised betting in Britain.
The recognised betting brands such as Ladbrokes, William Hill and Coral all stepped into this new technology, and they were joined by other online-only specialists such as Bet365.
The internet served two purposes. It allowed betting shops to quickly move prices in response to market forces while also allowing punters to bet on a huge variety of sports from within the comfort of their own homes.
In a comparatively short time, sports betting had expanded from covering horse racing, greyhounds and football pools to taking in pretty much every televised sport. And as for football, restrictions were lifted to allow people to bet on individual matches.
How did Betfair revolutionise betting?
In 2000, Betfair entered the UK betting landscape. This was a whole new concept in wagering in that it eliminated the middle man, the bookmaker, and essentially allowed individuals to set their own odds and bet against each other.
By also allowing the bets to stand 'in-running' it added a secondary fresh dimension to betting. Nowadays, some markets – particularly in cricket where a single match takes place over five days – are far more liquid once play has started.
Betfair makes its money by taking a small commission charge for every single back or lay bet placed. In some respects it is closer to market trading than traditional sports betting.
How does BetConnect improve on the exchange model?
BetConnect is a hybrid solution that combines many of the strengths of the Betfair model – it is, after all, a peer-to-peer exchange – alongside the reassurance of big bets being matched without restrictions.
Available prices quoted are based on real-time markets provided by a wide range of online bookmakers. The platform gives bettors reassurance that they get the best bookie prices while layers know where to head for matched betting opportunities.
BetConnect's single biggest advantage is its ability to fuse three disparate groups of individuals:
Professional punters who have grown frustrated by restrictions imposed on them by the bookies
Recreational players who enjoy backing and laying selections
The growing community of matched betting enthusiasts
Create a BetConnect account now. BetConnect is the only exchange that lets you back selections at bookie odds with no restrictions and lay the selections of other account-holders commission-free. Not sure how it works? Read this simple guide.