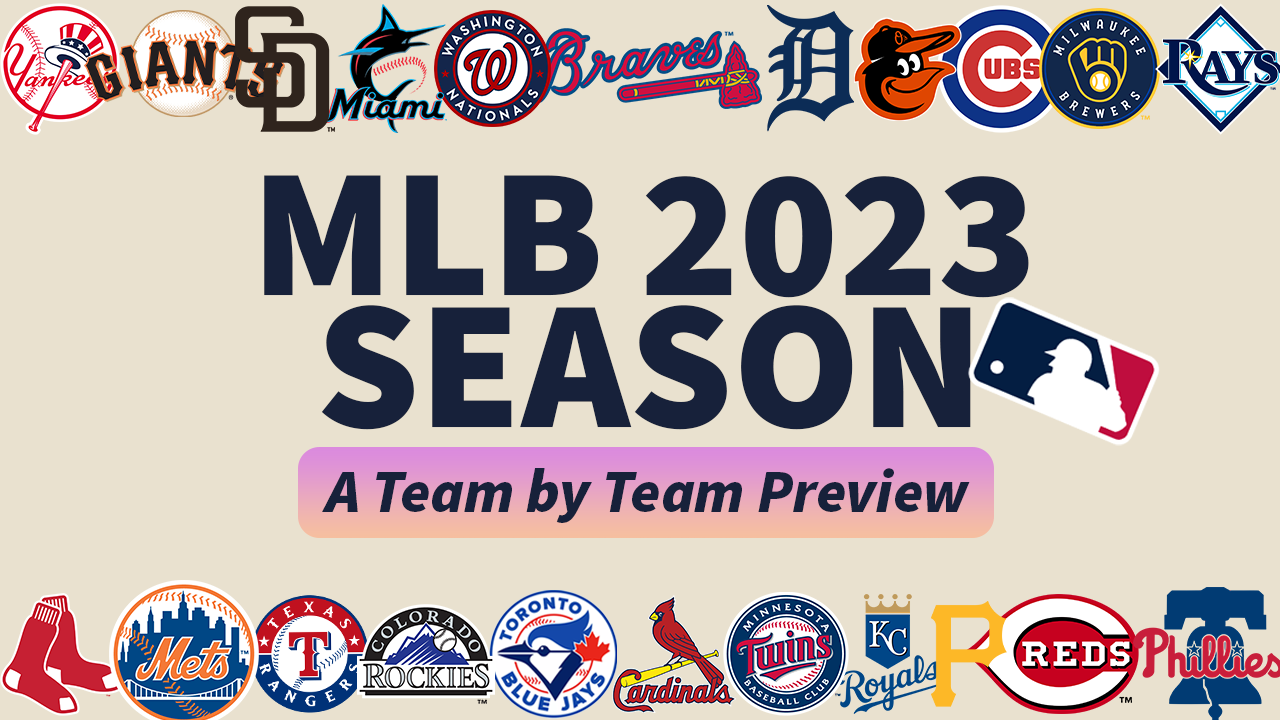 The Major League Baseball season starts on the 30th of March. 162 games make up a long schedule though the summer. We take a look over all 30 teams and make a few ante post selections to add a bit of intrigue to the baseball season. All prices are correct at time of writing.
American League East
New York Yankees
Aaron Judge putting pen to paper on a new deal was the big offseason move all Yankees fans were looking for. The signing of Carlos Rodon after a pair of strong seasons bolsters the rotation led by Gerrit Cole but the general health of the likes of Giancarlo Stanton and Aaron Hicks will be crucial. Started last season on an historic pace before falling away. Should make a strong run at another AL East title.
Toronto Blue Jays
A big hitting lineup looks set to once more thrill their fans with the long ball. Vladimir Guerrero will be the man to lead the charge again but the effectiveness of the starting rotation will be key. Alek Manoah is a bonafide star in the making while Chris Bassitt looks a solid pickup from the Mets but Jose Berrios and Yusei Kikuchi at the back end of the rotation need to step up for them to make a deep run.
Tampa Bay Rays
It's hard not to love the Rays, what they have achieved for a long time on a shoestring budget has always been impressive. Pitching has carried them, a position where they will have to dig deep early on this campaign. Tyler Glasnow will miss the first month of the season and sturdy bullpen piece Andrew Kittredge will be out until after the All Star Game. No doubt Kevin Cash will piece a jigsaw together as he does so well but will it be enough?
Baltimore Orioles
There were signs of life last season in Baltimore and hope for the future. Adam Frazier and James McCann both add some veteran presence in an otherwise young lineup where Adley Rutschman will be looking to build on a strong rookie campaign. The lack of starting pitching looks like holding them back for another year but they could give a few teams a scare along the way.
Boston Red Sox
It was an awful season in 2022 by Red Sox standards. The signings of Corey Kluber, Kenley Jansen and Justin Turner do nothing for the average age of the squad where four of their five starting pitchers are the wrong side of 30. Masataka Yoshida may add some spark to the top of the lineup but it smacks of a team who will be overly reliant on star Rafael Devers and ageing stars staying healthy to contend.
American League Central
Cleveland Guardians
Small ball was the order of the day last season, Steven Kwan and Myles Straw setting the table for Jose Ramirez. Sixth in the majors in average supported by a pitching staff fifth in ERA, they managed to piece together plenty of wins. Josh Bell has been brought in to add some pop to the lineup, while veteran Mike Zunino behind the plate is a solid enough addition to provide the odd big fly as well as mentor a starting rotation in their mid-late twenties. They will be competitive again in a weak division.
Chicago White Sox
2022 was a disappointing year for the team that fans have been waiting to break out for a while now. Elvis Andrus had his best year in a long time but it was a rare bright spark in an otherwise moderate season. Andrew Benintendi is a nice signing for the outfield while Mike Clevinger can bolster the back end of a promising rotation led by Dylan Cease. The ability is there if they can keep the likes of Eloy Jimenez healthy for a full year.
Minnesota Twins
The will he, won't he saga with Carlos Correa was the main talking point of the winter in Minnesota. Eventually he did and in a team with Byron Buxton, Max Kepler and Joey Gallo, the Twins will have plenty of pop. A lot will depend on how the last named does having had a torrid 2022 with the Yankees and Dodgers. His average will always be in the gutter and the banning of the shift doesn't look to have been properly 'banned' which could see Gallo struggle again. A lot will depend on how close their starting rotation can keep things.
Detroit Tigers
2014 was the last time that the Tigers made it to the postseason having made it to the AL Championship series each of the three years prior. They are a team with a few sparks of young talent but this season will feel like a Miguel Cabrera farewell tour before the future hall of famer hangs up his cleats at the end of the campaign. It's hard to see them making much of an impact this season with a starting rotation that looks far from strong.
Kansas City Royals
Middle of the road in terms of batting average last year was a lone high point as they failed to get enough of those base runners across the plate, 24th in the league in total runs scored. Franmil Reyes is an interesting addition to the lineup, a big slugger when last in the AL Central with Cleveland. They have a starting rotation that has plenty of experience but getting length and quality from them will define their season.
American League West
Houston Astros
The defending champions are strong across the board. A stellar starting rotation and a deep batting lineup which has been boosted by the addition of Jose Abreu from the White Sox. Justin Verlander leaves a sizeable hole at the top of the rotation, an issue made worse by Lance McCullers set to miss his first few starts but they have more than enough talent to be right in the mix once more when it comes to the crunch.
Seattle Mariners
A pleasant surprise last season, making it out of the regular season for the first time since 2001! They knocked off the Blue Jays before succumbing to the Astros in the postseason. The Mariners have a strong looking rotation on paper but that relies heavily on 25yo's George Kirby and Logan Gilbert backing up their 2022 campaigns. A.J Pollack is a nice addition to the outfield with some pop in his bat while Kole Calhoun is another veteran who can do some damage. Add in Teoscar Hernandez who comes over from the Blue Jays and the Mariners have plenty of slug to entertain the fans and send them back into the postseason.
Los Angeles Angels
Mike Trout and Shohei Ohtani are two of the biggest stars in the sport. Despite their hall of fame calibre talent, the Angels have not got close to a postseason berth with the two in the lineup. Hunter Renfroe and Gio Urshela are a pair of solid signings to extend the batting lineup but the team still looks weak in their starting rotation behind Ohtani. They have added Tyler Anderson to try and rectify that but his performance across town for the Dodgers in 2022 will be hard to replicate.
Texas Rangers
Made some big signings last offseason with Corey Seager and Marcus Semien who helped the team to 12th in runs scored and 8th in home runs. This time around they have added to the starting rotation, prying Jacob DeGrom away from the Mets, Nathan Eovaldi from the Red Sox and Andrew Heaney from the Dodgers. DeGrom is arguably the best starting pitcher in the league but he has struggled with his health. Keep them all fit and the Rangers will make waves in what is a very deep division.
Oakland Athletics
Poor Oakland. The worst team in the American League in 2022 find themselves in an even deeper division in 2023. Shintaro Fujinami has arrived in America from Japan armed with a career 3.17 ERA. He could find himself leaned upon heavily in the starting rotation. Jesus Aguilar enjoyed some solid years with the Marlins, he can add some pop but it looks a lineup set to be the whipping boys in the AL West.
National League East
Atlanta Braves
The 2021 World Series champions boast a strong starting rotation with an excellent mix of youth and experience. Their offence is jump started by Ronald Acuna who will be looking to escape injury this season, a comment that can also be applied to second baseman Ozzie Albies. 64 games was all that Albies managed in 2022 as part of a strong infield that includes Matt Olsen and Austin Riley. The loss of short stop Dansby Swanson to the Cubs is a big one but the team have enough talent to cover that hole.
New York Mets
Despite the loss of Jacob DeGrom to the Rangers, the Mets are still right at the top of the league in starting rotation strength. Justin Verlander joins Max Scherzer at the head of the rotation with Kodai Senga bringing a 2.42 ERA from Japan to support Carlos Carrasco. Add those to a batting lineup who were second in average and fifth in total runs scored last season and there is the potential for a deep run. A 101-61 record last season was second best in franchise history, behind only the World Series winning team of 1986. Big things are expected of this group.
Philadelphia Phillies
Will there be a World Series hangover in Philadelphia this season having been beaten by the Astros? That's the question that the team will have to answer in 2023. Teijuan Walker is an nice addition to the starting rotation from the Mets. He joins Aaron Nola and Zack Wheeler to form what should be a strong attack on the mound. Trea Turner is a big pickup for them from the Dodgers but an injury to Bryce Harper will hurt their lineup through the first half of the season. Any slow start or hangover could prove very costly.
Miami Marlins
Sandy Alcantara was a monster on the mound in 2022 for the Marlins. A lack of runs scored didn't help the majority of the rotation, the likes of Jose Luzardo and Braxton Garrett pitching well but not getting the personal reward of wins. Johnny Cueto has been added into the mix to add some veteran leadership for what should be a solid rotation. The lack of runs scored (28th in the league in 2022) is once more the concern if they are to make any major impact at the business end of the season.
Washington Nationals
Struggled across the board last year, 26th in the league in runs scored and 28th in team ERA which topped 5. The oft injured Stephen Strasburg will miss at least the first month of the season after making just eight starts the last three campaigns combined. Patrick Corbin was lit up last year, failing to fill in that gap at the top of the rotation. He remains a serious question mark ahead of this season. They field an experienced if unspectacular batting order as well so it's hard to see them making much of an impression.
National League Central
St Louis Cardinals
After the distraction of Albert Pujols and Yadier Molina's last years in the majors last season, it should be back to something akin to normality in St Louis. In general the team were strong across the board both in hitting and pitching, top 10 on both sides of the ball. Both Paul Goldschmidt and Nolan Arenado had excellent seasons last year and will be required to do so again in a division that looks stronger than it did last year.
Milwaukee Brewers
The Brewers boast a strong rotation led by Corbin Burnes and Brandon Woodruff, all the way down to their prospective number five starter, new signing Wade Miley. The veteran adds some solid length to this rotation which as long as they stay healthy, should prove one of the best in the National League. William Contreras is an excellent addition at catcher as is Jessie Winker who has come over from Seattle. They are already a team with plenty of pop (3rd in HR's in 2022) with Luke Voit another big hitter brought in to add to that. Could be a real contender this season.
Chicago Cubs
Made some waves over the winter, signing Dansby Swanson from Atlanta and adding Jameson Taillon from the Yankees, Trey Mancini from the Astros, Eric Hosmer from the Red Sox as well as ex-Dodger Cody Bellinger into the mix. They are some smart veterans to add into a lineup that showed the odd glimmer of promise last season. That adds some intrigue into what is shaping to be a far better division than in 2022. Whether there is enough in the rotation to get through 162 games is the concern but they should provide some entertainment for fans.
Pittsburgh Pirates
The return of Andrew McCutchen is the big story of the offseason in Pittsburgh. While he was an undoubted star on his first go round in the 'Steel City' at the age of 36, it's hard to see him having the same impact now. Carlos Santana is another veteran presence of the same vintage, though his lack of hits won't help a team who were 29th in average in 2022. Oneil Cruz has the potential to be a bonafide star in the league but he can't carry the team on his own. A small step forward in overall record perhaps but no sign of any postseason just yet.
Cincinatti Reds
It's a young starting rotation in Cincinnati who combine for plenty of future promise but perhaps are too inexperienced at present to guide the team to any sort of a charge. Wil Myers has the potential to enjoy this smaller park having moved from the Padres but in general they look a piecemeal of a team who may enjoy the role of underdog but probably lack the overall quality to make a serious impact on the standings.
National League West
Los Angeles Dodgers
Perennial contenders but they have lost a number of stars in Trea Turner, Justin Turner and Cody Bellinger. In their rotation, Tony Gonsolin has to prove that he can back up a career year while Walker Buhler will miss the majority of the season. Noah Syndergaard has been brought in for the backend of the starting lineup but he has enough to prove himself after a modest enough 2022, a long way removed from the 'Thor' of his early years. No doubt they will be right in the mix once more but they might not be quite so dominant in the division as their 111 wins from last year.
San Diego Padres
Have invested a lot of money in recent times to try and live with the Dodgers. Xander Bogaerts is the latest in that long line, putting pen to paper on an 11 year deal. They have the makings of a strong rotation with Michael Wacha arriving to shore up the backend, following on from Yu Darvish, Blake Snell and Joe Musgrove, though the last named will miss the first month. Juan Soto and Manny Machado are two huge stars in south California and perhaps Bogaerts can be the puzzle piece to push them over the top.
San Francisco Giants
Logan Webb turned himself into a genuine number 1 starter in 2022 and will head a strong rotation completed by Sean Manaea, Ross Stripling and a pair of Alex's, Cobb and Wood. Mitch Haniger missed a big chunk of last season when with the Mariners but he clubbed 39 HR's in 2021 and looks a strong signing. 2022 was a write-off for Michael Conforto with a shoulder injury but he was a star for the Mets prior to that, hitting 88 HR's in the three seasons 2017-19 combined. The Giants dropped from 107 wins in 2021 to 81 last year, they will be hoping for a bounce back year with the new additions.
Arizona Diamondbacks
26th in the league in batting average last season and 23rd in ERA unsurprisingly saw the D-Backs have a moderate campaign. Zac Gallen was a bright spark in their rotation and the 27 year old can once more lead the pitching staff. Evan Longoria has struggled to stay healthy in recent years but he is a veteran presence for the locker room and can still produce offence at a fair lick. Even a full season of Longoria is unlikely to be enough for the team to make any impression on the playoffs.
Colorado Rockies
Pitching at such altitude has always been a difficult thing, no surprise then that the Rockies were stone cold last in team ERA last season. They have a lineup with more than enough pop for the team to score plenty of runs, especially if Kris Bryant can stay healthy and CJ Cron can back up his stellar 2022. Whether they are able to get enough quality innings from their starting staff, however, is going to be the big question.
Conclusion
Milwaukee Brewers E/W @ 33/1
One of the strongest starting rotations has been boosted by some added pop in the order. The NL Central looks a little deeper than it has in recent years but it is still the easiest of the three in the NL. If staying healthy, they should be set to make waves and find their way into the postseason.
Chicago White Sox E/W @ 30/1
A team who have been expected to do better in recent times but are yet to really cash in on that potential. In a relatively weak AL Central, this might be the year that they are really able to kick things into gear and finally live up to that with an improved rotation and some better health from their hitting lineup.