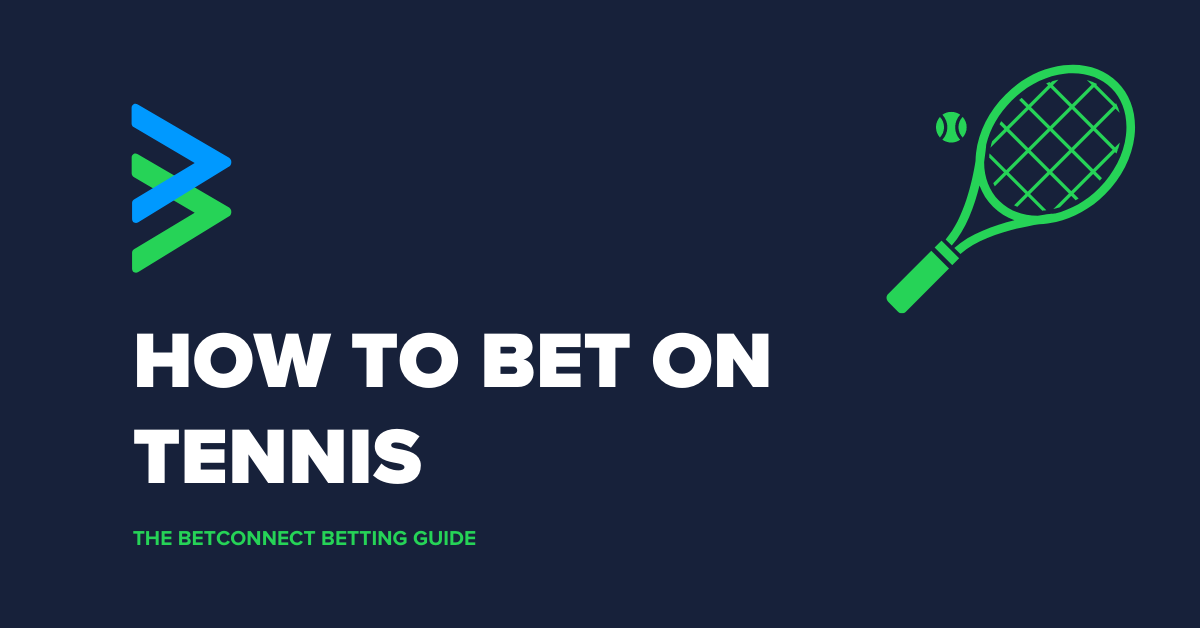 Fancy a bet on the tennis but not sure how to get involved? Here's everything you need to get started.
Tennis has become one of the most popular sports to bet on in the UK. And it's not all about the Grand Slams either. With tournaments now played all year round, at any given time you can pretty much guarantee there will be a tennis match happening somewhere in the world to watch and bet on.
As well as a jam-packed schedule, tennis punters also have a wide variety of markets available to them. That means there are plenty of opportunities to turn a profit. And the good news is BetConnect has your tennis betting completely covered. Be it the four Grand Slams, the ATP tour, the WTA tour or anything else, here is where you will find the best tennis odds around. No need for multiple bookmaker accounts or odds comparison websites, we do it all for you. So read on as we show you how to bet on tennis with BetConnect.
What tennis can I bet on?
The ATP and WTA tours
The ATP and WTA tours represent the highest level of tour tennis in singles and doubles for men and women respectively. Both tours are made up of different tournaments, played globally throughout the year almost on a weekly basis. At BetConnect, we offer markets on all WTA and ATP tournaments, as well as some of the major qualifying tournaments.
The Grand Slams
Of course, you can also bet on the Grand Slams. These are the four most prestigious events in professional tennis.
Australian Open
The Australian Open is played on hard courts over the last fortnight of January at Melbourne Park in Melbourne, Australia.
French Open
The French Open is the second Grand Slam on the tennis calendar, played at Roland Garros in Paris, France on clay courts.
Wimbledon
The oldest tennis tournament in the world, Wimbledon has been played on the grass courts of the All England Club in Wimbledon, London since 1877.
US Open
Starting on the last Monday of August, the US Open is the final Grand Slam of the season, played in New York on hard courts.
Tennis Betting Markets Explained
At BetConnect you will find the best bookmaker odds for a wide range of tennis bet markets. Some you will already be familiar with but others require a little more explanation. Below is a quick guide to the various markets available to you.
Match Result
The most obvious bet and the easiest one to explain. In tennis, a match result bet simply involves picking the winner. Different factors are considered before lumping on a selection as the odds will rarely be attractive in these markets. Which player will perform the best bearing in mind the surface, weather conditions, and recent form? Also do not forget that all-important, but sometimes overlooked aspect, head-to-head records.
Game Handicap
Game handicap is a fairly new innovation to tennis betting though commonplace in sports betting as a whole. The player who the match market views as the underdog is given a handicap to make the contest more even.
Let's use this example: Rafael Nadal has a +3.5 handicap against Novak Djokovic. The match is won by Djokovic 6-4, 4-6, 6-4 but your bet on Nadal wins because if we add up all the games, Djokovic has 16 to Nadal's 14. We then add 3.5 to Nadal's score, which takes him past his rival.
A great time to get stuck into this market is when you think the two players are hard to split although one is given a reasonably generous handicap.
First Set Winner
This is a fairly unusual bet and it will generally replicate the match market. However, you may have collected some data that shows you exactly how effective a particular player is early in a match. If so, you may have an edge that gives you a chance of reaping a profit.
Total Games
Here there is a fixed 'line' of the total games the market expects there to be in the match. Bet either side of the line at odds of around 10/11 if you think the line is above or below where you'd expect it to be.
A good trick in a market like this is to calculate in your mind how the match is going to play out. If the market line conforms roughly to your belief, avoid betting. If it's quite far from your estimate, this is a good time to place the bet.
Generally speaking, the closer a match is the more total games will be played. Look out for men's matches on fast courts where both players are big servers. These will often have several sets going to tiebreaks and are good matches to pick for bets on the high side of the line.
How to bet on tennis
It couldn't be easier to bet on tennis at the best bookmaker odds with BetConnect. Just follow the steps below and don't forget to check 'My Bets' to view your active and settled bets.
Firstly select 'Tennis' from the list of sports on the left-hand side of the homepage
Next, select the tournament and match you wish to bet on
Then make your selection and watch your bet slip automatically fill on the right-hand side
Now choose the best price available from the bookie odds displayed
Finally, enter your stake, view your potential profit and simply click 'Place Bet' to place your bet
And that's about it! As you can see, you are almost spoilt for choice in terms of tennis to bet on and available markets. Hopefully, you found this guide useful, but if you have any questions, please feel free to contact our friendly support team using the widget on our homepage.