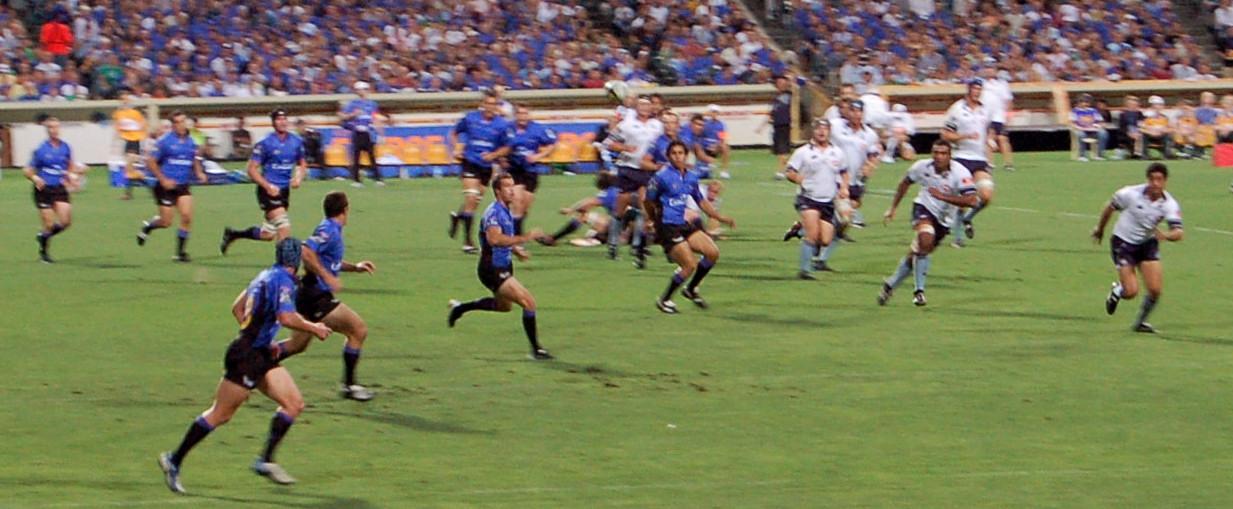 Introduction
Placing bet stakes on professional Rugby Union games and competitions is increasingly popular in the 21st century. Rugby Union has always had a massive following, and the growing number of betting sites and markets has made it easier than ever to have a punt on the results. If you're new to rugby betting potential and confused by the huge choice of rugby betting sites online, you can browse and enjoy the features available here.
You will find Rugby Union to be a fast-paced game comprising of two-40 minutes halves during which players compete to score more points than the opposing team. Some rules or laws of Rugby Union are that no players can throw the ball forwards, and no tackle can be made using the legs or from the shoulders up.
The interesting history of Rugby began at Rugby School in Warwickshire with students taking the rules of play to university. In 1895 disagreements about whether or not players could be reimbursed for time missed from work, the sport was broken into Rugby League and Rugby Union.
In 1871, the Rugby Football Union was formed, and the gameplay rules codified with the sport gaining global popularity. There are now competitions that involve some of the biggest names in Rugby Union, like the Six Nations and Rugby World Cup. With Rugby Union's popularity increasing, placing stakes on the sport has followed multiple markets and great odds available all year round! Now more than ever, punters are enjoying the exhilarating gameplay with added bets on play, and it's really simple to get started. This Rugby betting guide is a great start.
Rugby Union Betting
Rugby Union games involve two teams of 15 players that can provide lots of betting potential with 8 Forwards and the remaining 7 in Back and Half Back positions. Teams can score points in multiple ways, such as a try, a conversion, a penalty or a drop goal.
With so many ways for teams to score points for their respective teams, it is uncommon for a game to end in a draw. That is not to say it is impossible; however, we would not advise bettors to cover it unless part of a matched betting rugby stake, a strategy we will cover later. Instead, you can make the most of this competitive gameplay and bet on teams or games to finish with high scores.
This form of sports betting relates to punters placing stakes on the outcome of individual games or competitions in Rugby Union or an accumulation of bets. For a bet to pay out, the market staked must come true in the specific game or games selected with the payout made from the stake and odds of that bet.
When placing bets on professional Rugby betting sites, the cash-out feature could be the difference between winning and losing, so it's always worth keeping an eye on active bets. With such fast-paced gameplay, everything can change from a single play during Rugby Union bets.
The options available on rugby betting sites can provide players with great winning potential. There are plenty of betting markets to try out that can provide various odds, much more than the simple outright match winner.
Rugby Union Betting Markets
Of course, the most common and simple bet stake available relates to the winner of individual matches, stages or tournaments. This is the simplest market to understand for new starters, with plenty of great rugby betting tips available for this market.
If you're looking for increased odds on Rugby Union and are confident in a selection, it might be worth placing a handicap bet. This will require the winner/loser to do so by a certain score, such as a team winning by a minimum of 8 points. This betting market will often let those placing a bet choose how many points they think a team will win or lose with odds relating to the chance of this result occurring.
There are also lots of Over/Under bet potential across the best rugby betting sites online, such as betting on individual teams or players to score over a certain number of points. This betting market could also relate to other play parts, such as the number of lineouts in a game. These bets can provide the highest returns from Rugby Union betting sites, particularly if a stake is correctly placed on an unusual number of points, tries etc.
Another market available across the best rugby betting sites related to Prop bets offers more obscure game stats to wager on. This could relate to the team scoring first/last, the half with the most points or the first player to score a point. It would be worth researching the teams involved to predict these bets correctly.
There is a huge selection of potential stakes to place across rugby betting sites with fantastic odds available on professional fixtures. Rugby Union gameplay involves lots of excitement that is only made better by placing a wager on the outcome.
Rugby Union Betting Strategy
When it comes to placing stakes, there are multiple different strategies that people could use in the hope of it resulting in a payout. As with any professional sport, when placing a bet, there is a risk that the stake will not come off, and the bettor will lose money. You can improve the winning potential of a stake before placing it.
Rugby Betting Tips
There is a huge selection of rugby betting tips across sites online that can be used as inspiration for your next wager. These tips may come from recent expert analysis of teams and players' form, leading to an educated opinion on how they might fare. Other rugby betting tips could be based on the popular bets that users on rugby betting sites are already placing; this will not offer favourable odds compared to the less popular stakes.
Especially if you're new to placing stakes on this sport, we advise anyone to find out more about it before placing a bet. Read up more about the various betting markets available in Rugby Union betting and the teams/players available to bet on. You will find that there are favourites and underdogs in most betting scenarios. The 'safer' option is to go for the favourites, but in some cases, an underdog story is waiting to happen!
Rugby Matched betting
An increasingly popular sports betting format that could lead to some great winning potential is called matched betting rugby. This rugby betting strategy removes the potential to lose by covering all eventualities of a bet.
The premise of matched betting rugby is based on covering all possible game outcomes using a 'lay' and 'back' bet on the same fixture. The 'back' bet is the initial stake on a rugby betting site; this first stake is placed on a team to win. The 'lay' bet is used to protect the stake should the 'back' bet fail; if the initial stake is set for the Springboks to beat England, the 'lay' bet will cover them to lose or draw. As mentioned, drawing is fairly uncommon in Rugby Union; however, this betting strategy covers all outcomes to dispose of any losing potential.
Regarding matched betting on rugby, this strategy is commonly used to register for promotional bet offers and use these bonus stakes. By using the free bet potential offered across the best rugby betting sites online, it is possible to maximise winning potential without the chance of losing.
 If you're looking to partake in some matched betting rugby stakes, then the features available at BetConnect offer a great place to start. With Matched Betting Pro software available to use on a monthly subscription basis, that makes placing the 'back' and 'lay' stakes easier than ever. This software is so popular for matched-betting rugby stakes as it provides bookmaker stakes for lay bets without taking commission per stake. If you're new to matched betting, you will find the experience at BetConnect simple to follow with constant support available.
Popular events in Rugby Union Betting
The popularity of Rugby Union around the world means a huge selection of exciting dates in the calendar offering great betting potential all year round. Alongside each nation's respective regional and club leagues, there is also a large market in national sides and competitions with some of the best odds available from these games.
Club Tournaments
The top tier of professional Rugby Union in England is known as Premiership Rugby or the Gallagher Premiership due to sponsorship deals. The Premiership contains 13 clubs that could face relegation to the RFU Championship at the end of each season. It was founded in 1987 and hosted some of the biggest names found across rugby betting sites, from the Leicester Tigers to the Newcastle Falcons.
Another popular domestic Rugby Union competition globally is the Currie Cup in South Africa which has been running since 1982. The Western Province is the most successful team in this historic cup, with 34 titles under their belt as of 2022.
The highest professional Rugby Union competition in North America is the Major League Rugby, active since 2018. This league features 13 teams, including the Toronto Arrows, the LA Giltinis and the Dallas Jackals.
International Competitions
There is also a great selection of professional Rugby Union competitions between global teams that take place regularly. The Rugby World Cup occurs every 4 years, with 20 teams competing for the Webb Ellis Cup. The first Rugby World Cup was held in 1987 in Australia/New Zealand, with The All Blacks beating France in the final.
The Six Nations takes place annually; this was originally called the Home Nations; however, France and Italy have since joined the format. With plenty of trophies available through the Six Nations Championship, there are great odds across rugby betting sites.
The Rugby Championship occurs annually between Argentina, Australia, New Zealand and South Africa. This tournament pits the highest-ranking national sides in the Southern Hemisphere against one another, much like the Six Nations does for the Northern Hemisphere.
You can find brilliant odds on all of the competitions mentioned and more from rugby betting sites online. Newcomers to Rugby Union betting will find the selection of betting markets and professional games to place stakes on one of the best things about Rugby Union betting.
What's important to keep in mind here is the difference between Rugby Union and League, especially if you're new to the sport and are placing stakes on results. A big difference between the two is that sides of Rugby Union have 15 players whereas Rugby league only 13. Another difference is the points scored from tries, penalties and conversions; in Rugby Union, these are worth more which is important when betting on the score of a match. There are a lot of differences between Rugby League and Union, with players and fans taking the difference very seriously; it is worth reading up on this before placing a bet.
Other forms of professional rugby include Rugby Sevens and 10-a-side games, which can further land winning stakes. All competitions play out at varying times throughout the year, so there is always the opportunity to bet on Rugby.
Summary
Now that you know more about the various bet markets and tournaments available across professional Rugby Union, all that is left to do is try your luck. Keep an eye out for useful rugby betting tips, or try your hand at some matched betting rugby using the brilliant promotional offers available across online sports bookmakers.
Hopefully, this rugby betting guide has been helpful to any newcomer to placing bets on the intense gameplay on offer. Along with the matched betting rugby potential at BetConnect, you will also find the best odds from the best rugby betting sites online.
Please remember when checking out rugby betting sites always to gamble responsibly; you will find many useful features to help you stay in control of your gambling. This could mean having to set limits on deposits on site or time spent looking at potential bets.